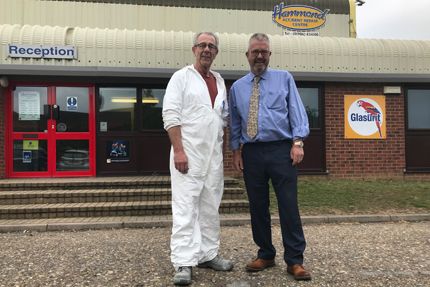 Tony celebrates 50 years working for Hammond Motor Group
In 1969 man landed on the moon for the first time, The Beatles played their last public performance and Richard Nixon was the President of America. A little closer to home, Concorde flew its first maiden test flight out of France and Harold Wilson was the Prime Minister of Great Britain.
A little-known fact at the time, was that Tony Whiteman started his apprenticeship, as a panel beater working for AW&D Hammond at the age of 17. Incredibly, after 50 years he has outlasted them all and is still there. To celebrate this fantastic achievement, Hammond Motor Group awarded Tony with a plaque and a watch.
Tony was one of only eleven employees when he first started working for AW&D Hammond, which was based in Wenhaston at the time. The company had only formed seven years previously in 1962.
One of his first jobs was to strip out a door on a Humber Snipe, "I've never seen so many screws in one door!" he recalled.
The types of vehicles he worked on back then were Singers and Triumphs, a far cry from the vehicles of today; now he works on all types of vehicles from HGV's, coaches, cars and agricultural machinery.
"Back when I first started, we had five-year apprenticeships and we were trained to do every aspect of the job, from dismantling, to panel beating and the respraying" he said.
The company soon out-grew itself and moved to Halesworth in Norwich Road, which is now currently the Ford site, before splitting again to Blyth Road in the town and becoming one of the largest accident repair centres in East Anglia. Tony was there on every occasion.
Managing Director, Glen Hammond remembers when he was Tony's apprentice. "I remember one of my first ever spray jobs", he said smiling, "I was painting a coach and Tony had to keep coming behind me and clear up the paint runs I was causing."
Hammond Motor Group now employs nearly 300 people. As well as the accident repair centre, it has five franchises, including Ford, Nissan, Isuzu, Subaru, and Iveco. There is also a rental department, a HGV commercial vehicle servicing centre and a recovery department. Further afield, it has a semi-trailer repair business in Dereham under the name of Roadcare, another recovery site in Rendlesham and a Nissan franchise in Bury St Edmunds which also includes an accident repair centre.

Latest News