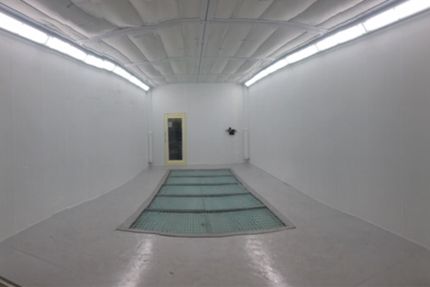 Hammond Accident Repair Centre Increases Its Green Credentials With Three New Spray Booths.
The Hammond Motor Group has certainly come a long way since its humble beginnings in 1962; this was the year when Roy and Daisy Hammond started the business working out of a wooden workshop in Wenhaston.
The company now resides in Halesworth offering five franchises, including Ford, Nissan, Isuzu, Subaru, and Iveco. It also has a rental department, an HGV commercial vehicle servicing centre, an accident repair centre and a recovery department. Further afield, it has a semi-trailer repair business in Dereham under the name of Roadcare, another recovery site in Rendlesham and a Nissan franchise in Bury St Edmunds which also includes an accident repair centre.
The accident repair centre in Halesworth is one of the largest in East Anglia, covering over 45000sq ft. It's capable of repairing all types of vehicles, from small cars to all types of heavy goods vehicles. To give you an idea of the scale, it can straighten lorry chassis' and if needed, completely respray a double decker bus.
Recently, after a successful application and assistance from the Business Energy Efficiency Anglia Programme, Hammonds enhanced their eco credentials with the installation of three new Junair spray booths, capable of not only spraying cars, but the largest panel vans too. This followed a previous investment in 2016 when they added a suite of solar panels to two of their main buildings.
The original booths were installed in 1995, which was the same time that they doubled the building size.
Putting in new equipment had to come with energy saving and added efficiency. This meant that they opted for an energy saving pack including; UltraLux LED lighting, Fuel Saver Mode operation, Variable Speed Drives and Junair patented QADs. All of these features, when used in conjunction, will save the company up to 70% of their energy costs.
QADs is an advanced auxiliary air movement system that supplies filtered airflow from the corners of the booths, saving energy, time and money on the paint curing process.
Most of the energy used by a spray booth is expended on heating up external air to the temperature required. With Fuel Saver Mode, this automated system recirculates the air during idle and approximately 22% of energy costs can be saved.
LED lighting has been specifically designed for use in the new spray booths. LEDs are well known for their energy efficiency; as well as significantly increasing LUX levels when compared to standard spray booth lighting. This offers a more consistent and cleaner light that closely replicates natural daylight at 5700k (K, also known as kelvin, is a unit of measurement used to measure absolute temperature). This means painters can achieve a more accurate colour rendition. Add the fact that most of the products used are waterborne, this helps create a much cleaner environment.
Glen Hammond, Managing Director said, "It's a win, win situation for us and the customer, not only do we cut down on our carbon footprint, but these new booths allow us to get a faster and even better standard of finish". He concluded, "We are now looking at doing the same for our Bury St Edmunds site too"

Latest News