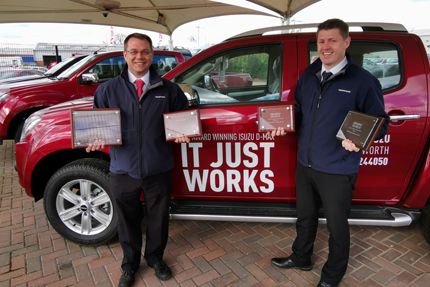 Hammond Isuzu Make It Four!
Hammond Isuzu, a long-established Suffolk dealership based in Halesworth are celebrating after receiving four highly regarded awards; National Parts Dealer Of The Year (winner), Regional Sales Dealer Of The year (winner), Accessories Dealer Of The Year (third) and Customer Care Dealer Of The Year (highly commended).
Hammond Isuzu stepped into the Spotlight at Madame TussaudsTM London and got up close and personal with more than 250 lifelike wax figures before being recognised for their outstanding performance and exceptional customer service.
The awards were presented by Isuzu UK Managing Director, William Brown, Donna Jeffrey, Isuzu Dealer Training Manager and Alan Able, Isuzu Head of Sales.
Andy Hammond, Operations Manager said, "We are delighted to have won these awards as it highlights the dedication and hard work our staff put in on a daily basis". He went on to say, "We mustn't forget our customers either, because without them, none of this would be possible"
William Brown commented "Congratulations to Hammond Isuzu on their achievements, commitment and efforts to make 2018 a success for Isuzu. 2019 looks to be even more successful with many exciting model launches; and it will be a great year for the whole Isuzu family."
For more information on the Isuzu D-Max range click here.
Latest News