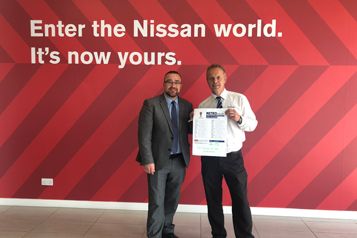 World Cup Raises Money For Children's Air Ambulance
The 2018 FIFA World Cup took the country by storm and at Hammond Nissan in Halesworth it was no different. This summer, staff got into the spirit of the tournament by organising a sweepstake, raising money for a nominated charity.
Each member of staff paid £5.00 and was given a team. It was decided that the money raised would be split between the East Anglian Children's Air Ambulance and the members of staff who drew the World Cup Finalists.
The Air Ambulance delivers emergency medical helicopter support to seriously ill children across the UK. Providing help 4 times faster than travelling by road, since their launch in 2013, they have attended over 300 life-saving emergencies.
Two members of staff were exceptionally happy with the final score; France 4 – Croatia 2. Keith Boggis, Service Manager, drew the winning team and Carl Riley, Sales Executive, came second.
Children's Air Ambulance Support Care Manager, Karen Gale, responded to the donation with a letter which read, 'We're so very grateful...your kind donation really will make such a difference and help keep our service flying and saving lives'.

Latest News