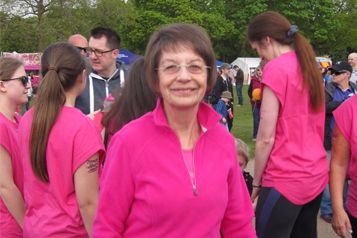 Janet dances and races for life
On a chilly Sunday morning, our AW & D Hammond Ford receptionist, Janet Hughes took on Cancer Research UK's Race for Life for the 6th year running. She completed the 5k course in just 45 minutes, a new personal best, 'I did surprise myself with the time I will admit but I was nice and warm by the end of the race.'
Janet's fundraising didn't stop there, next came the Dance Off at Bannatynes in Lowestoft. Janet was joined by 36 ladies who danced their socks off taking on Zumba, Sh'bam and BounceDanceFit.
This year Janet has raised a total of £600.00 for Cancer Research UK.
Every single penny raised goes directly towards Cancer Research UK's work. The charity are world leaders in finding new ways to prevent, diagnose and treat cancer. Their life-saving work relies on the money that is raised through sponsorship. It is from the support through events like Race for Life and Janet's Dance Off that helps them continue their ground-breaking work and help more people survive cancer.
Janet is already training for 2017's race.
Latest News