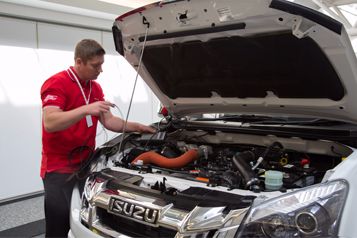 Isuzu World Technician Finalist at Hammond Isuzu
Hammond Isuzu, Halesworth, are constantly striving to provide a first-class service to their customers. This was recently put to the test, (literally) when two of Hammond's technicians, Lee Cayley and Aaron Fenn took part in Isuzu's World Technician competition.
After a written examination, they were both ranked amongst the top 6 out of 100 Isuzu technicians in Great Britain.
A month later, Lee and Aaron competed in the Great British Final in West Bromwich.
It was an intense day, starting at 9.00am and going through to 4.30pm, which saw the finalists undertake both practical and written examinations.
One of the timed practical exams begun with a non-starting vehicle. The technicians had an hour to diagnose, repair the vehicle using the correct procedure, and complete a written report. Each assessment was analysed by two examiners and a photographer.
Lee came second and Aaron came a close third; only 10 seconds behind!
Lee Cayley will now be going on to compete in the Isuzu World Technician Finals, which will be held in Thailand later this year.
Hammond Isuzu are very proud of both of their achievements and wish Lee the best of luck!
Latest News