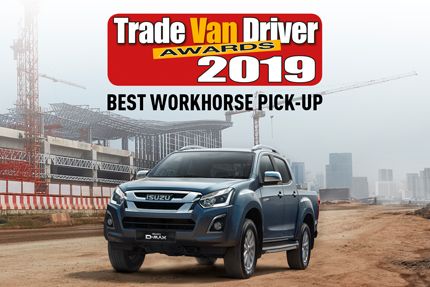 Isuzu D-Max Wins Award For The 7th Year In A Row
2019 has already been a successful year for the Isuzu D-Max and this May sees it receiving another accolade. For the 7th year in a row, it has taken home the Best Workhorse Pick-up 2019 from Trade Van Driver.
The awards, which celebrate working vehicles, were judged by the magazine's own expert panel as well as a panel of readers who use light commercial vehicles (LCV's) as part of their businesses.
Central to the judging criteria was payload, safety, technology, running costs, fuel efficiency, reliability and aftersales service. It is a great compliment that the Isuzu D-Max has emerged triumphant again. Having beaten some strong competition, this award highlights this pick-up was built for the professionals who use it.
The magazine praised the Isuzu D-Max for meeting Euro 6 standards without the need for AdBlue. Acknowledging its 3.5 tonne towing capacity, over 1 tonne payload and quiet, economical driving experience. It also noted that owners also benefit from the attractive five-year/125,000-mile warranty package and 5 years' roadside assistance (in the UK & Europe).
The breadth of the Isuzu D-Max range also impressed; with single, extended and double-cab formats available, as well as a wide choice of trim levels.
David Johns, Group Sales Manager at Trade Van Driver, presented this coveted award to William Brown, Isuzu UK Managing Director, who commented: "The award for the Isuzu D-Max is a demonstration of the truck's capability, practicality and reliability which meets the needs of customers, working hard for drivers and offering class leading durability. This award is another testament to that reputation, especially as the judging panel consisted of industry experts and professional pickup drivers alike."
Last year the Isuzu D-Max won seven awards and 2019 is already proving to be another successful year; winning 'Pick-Up of The Year' at the 2019 WhatVan? Awards and in the Pick-up & 4x4 Pro Awards 2019, plus best model in the 4x4 Magazine awards. It just keeps picking them up!
For more information on the award-winning range CLICK HERE for further details.
Latest News