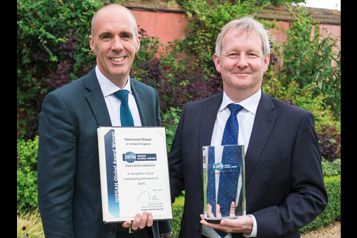 Hammond Nissan wins prestigious Global Award
Hammond Nissan receives the prestigious Nissan Global Award
The team at Hammond Nissan, Halesworth, are celebrating after winning the carmaker's highest global retail honour for the second time - the Nissan Global Award.
The accolade is reserved for the world's best performing Nissan dealers. It recognises the Halesworth dealership's outstanding sales and aftersales performance, particularly in terms of new car sales and customer satisfaction.
Announcing the winners, James Wright, Managing Director of Nissan Motor (GB), said: "Winning a Nissan Global Award is an outstanding achievement that very few dealerships in the world ever actually achieve." He went on to say that it was, "a real testament to the hard work and dedication of each and every team member."
Hammond Nissan in Halesworth is just one of three Nissan dealerships in the UK and 100 worldwide to receive the Nissan Global Award in 2016.
The Suffolk dealership last received the honour a decade ago. The latest win follows a string of other successes, with the dealership recently completing a hat-trick of national Nissan award wins.
Mike Thompson, Aftersales Director at Nissan Motor (GB), presented the honour to Piers Capleton, Dealer Principal, during a ceremony at the Jockey Club in Newmarket. Afterwards Piers said: "We're thrilled to receive this global award for the second time as it's only presented where there is an exceptional standard of service across all areas of a business. We have a focused, well established team that works together to consistently deliver the highest levels of customer care and it's great to have the recognition. Every member of the team has contributed to this award and can feel rightfully proud of what we have achieved."
Mike Thompson, said: "Very few dealerships in the world receive a Nissan Global Award and to win one is very special."
"This award recognises Hammonds Nissan as a leader in Nissan's worldwide retail network and the team's commitment and hard work is ensuring that Nissan remains one of the fastest growing automotive brands in the UK today."
Hammond Motor Group have recently added the Nissan site in Bury St Edmunds to their portfolio and are hoping to create the same award winning customer service that is currently being enjoyed at Halesworth.
Latest News