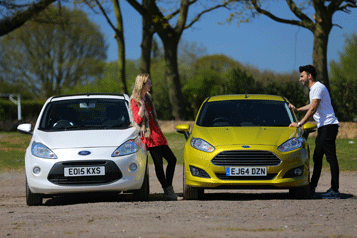 Ford teams up with 'Marmalade' to make new car motoring more affordable for young drivers
Ford is offering a contribution of up to £1,450 on Fiesta and Ka insurance premiums to help young drivers meet the cost of motoring
Insurance partner 'Marmalade' uses 'black box' technology to help young drivers develop safer driving skills.
Brentwood, Essex, May 1, 2015 – Ford has joined forces with insurance provider Marmalade to help reduce the cost of motoring for young drivers – and make the dream of owning a new Ford Fiesta or Ford Ka a reality.
The scheme brings together the popular Ford Options two-year personal contract purchase plan with a discreet telematics 'black box' fitted free of charge by Marmalade. Ford will contribute up to £1,450 towards the cost of insuring a new Ford Fiesta, or up to £1,110 towards a Ford Ka premium only when financed with Ford Options*.
4.3% APR representative
This partnership not only makes new car ownership a more attainable option for 18-24 year olds, but it also helps young drivers gather experience and skills more safely while they are at their most vulnerable. The black box monitors speed, acceleration, braking and cornering force and builds a profile of driver behaviour. If the driving standard falls below an acceptable level, the driver is offered helpful advice and tips to improve. Premium increases are introduced in steps should driving behaviour not improve over time- 9 out of 10 Marmalade drivers never experience this.
Drivers (and parents) have on-line access to the driving data which helps provide a forum for discussion, support and improvement. Today, around one in fiveyoung drivers has an accident within the first six months on the road**. However, just one in 17 drivers using the Marmalade scheme has an accident in the same period ***. Furthermore, the risk to young drivers is further reduced thanks to the latest active and passive safety systems fitted as standard to the latest Fiesta and Ka models. As standard Fiesta is fitted with Ford MyKey, a new technology that allows parents to limit top speed, encourage seatbelt use and control the volume of the integrated sound system.
The partnership aims to support Ford's national free driver education programme for young people – Driving Skills for Life (DSFL).
Mark Ovenden, Chairman and Managing Director, Ford of Britain said: 'We're committed to helping young people drive more safely on our roads. This insurance offer from Marmalade not only makes owning a brand new Ford more attainable, it brings with it all the advantages of the latest active and passive safety systems fitted as standard to our cars."
Crispin Moger, CEO at Marmalade, said: "Ford is the ideal partner for us with its commitment to the safety of young drivers. We are passionate about keeping young drivers safe and thanks to our intelligent black box technology have a strong track record of doing so. This new partnership will provide many more young people with a safe and affordable means to get on the road in great Ford cars."
Call AW&D Hammond Ford today on 01986 244072
*Important InformationRetail only. Finance subject to status. Guarantees may be required. Freepost Ford Credit. Subject to availability at participating UK Ford Dealers for new vehicles, contracted between 1 May 2015 and 30 June 2015 and registered between 1 May 2015 and 30 September 2015.
**: Department for Transport - Reported Road Casualties Great Britain: 2012 Annual Report & Marmalade claims data, 2014
***www.wearemarmalade.co.uk
Latest News