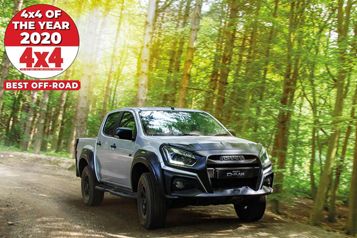 Double Celebration For Isuzu D-MAX In The 2020 4X4 Magazine Awards
Following on from an extremely successful 2019, the multi award-winning Isuzu D-Max has picked up more awards. Demonstrating just how good it is for those who require off-road abilities, the Isuzu D-Max XTR picked up the 'Best Off-Road' award. As well as this, the Isuzu D-Max Huntsman was voted 'Best Model' for the 2nd year in a row.
The categories are set to compare industry specific vehicles across several different criteria. The XTR reinforced its leading abilities, whilst the Huntsman was recognised as having an amazing accessory pack, making it a highly specialised vehicle.
George Wallis, Head of Marketing for Isuzu said "These two awards from 4x4 magazine add to our growing set of awards over the last 2 years for the Isuzu D-Max. They are further testimony to the great product which our customers already love and trust."
The Isuzu D-Max was praised for its incredible off-road abilities, and unlike many of its competitors, for meeting Euro 6 Standards without the need for AdBlue. It has a 3.5 tonne towing capacity and provides an economical, quiet drive, proving that it really is built for the professionals who use it. As well as this, it comes with a five year/125,000 mile warranty package and five year roadside assistance (in the UK & Europe).
George added, "Isuzu is proud to make highly capable and reliable vehicles for the professionals that need them, and these awards highlight the Isuzu D-Max truly is a step above the rest." Altogether, the Isuzu D-Max was victorious in 2 awards, beating rivals in a highly competitive sector.
Based in Halesworth, Suffolk, just off the Norfolk border; Hammond Commercial Vehicle Centre supplies the award-winning Isuzu D-Max. To find out more, call 01986 244078.
Latest News