Explore Model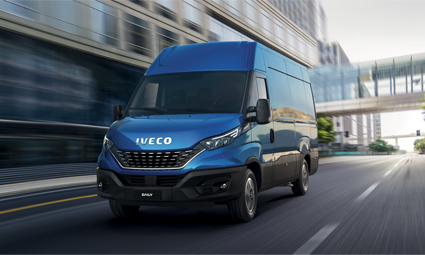 IVECO daily van in Halesworth
With exceptional efficiency, load volume and load capacity, the IVECO Daily Van exceeds expectations. Its 7-tonne maximum payload capacity and 196 cubic metre maximum load volume is class-leading, and you can configure your van in five vehicle lengths and three roof heights for any application. Stylish and professional, the IVECO Daily E6 makes a great first impression and puts efficiency first with a range of Euro 6 compliant engines. Thanks to Eco Switch PRO technology, running costs are kept low and thanks to a great specification which includes Bluetooth and USB connectivity, living with the IVECO Daily Van is hassle-free.
Design
The IVECO Daily Van sets the standard for professionalism. It stands out in its segment and is a unique van, sharing no underpinnings with any other model. Choose from five vehicle lengths and three roof heights. Customise yours with a range of body colours.
Drive
With its advanced suspension system and tight chassis, the IVECO Daily Van is remarkably comfortable and steady to drive. A 2.3 or 3.0-litre engine is available, offering up to 205bhp and 470Nm of torque for effortless load lugging.
Practicality
Configure your van with in five vehicle lengths and three roof heights. Enjoy a cargo volume from 7.3 m3 to 19.6 m3 and a load capacity from 3.5 tonnes to 7.2 tonnes. With such exceptional versatility, the IVECO Daily Van is second to none.
Living with it
Exceptional visibility, a short turning circle and useful features like rear parking sensors make the IVECO Daily Van easy to live with. The DAILY BUSINESS UP app makes scheduling jobs and keeping in touch with your drivers easy.