Explore Model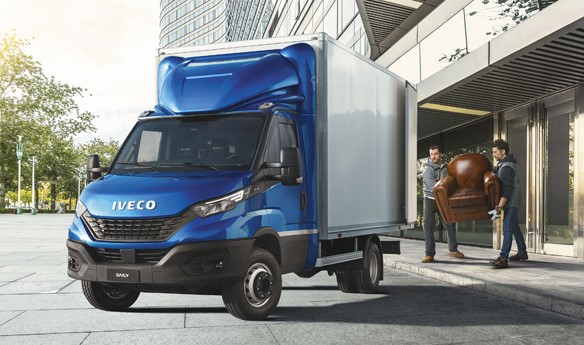 Iveco Daily Chassis Cab in Halesworth
The IVECO Daily Chassis Cab offers a GVW from 3.3 up to 7.2 tonnes and is powered by a state-of-the-art 2.3 or 3.0-litre Euro 6 compliant engine. Now also available with a HI-MATIC gearbox, this is a Chassis Cab that's as dynamic on the road as it is versatile. Choose a wheelbase from 3,000 to 5,100mm to suit your needs. Compatible with trailers, boxes and a wide range of other constructs, the Daily Chassis Cab boasts a high tensile steel frame for robustness and has been engineered to be a dependable workhorse. Advanced connectivity and a refined cab seal the deal.
Design
This is a smart Chassis Cab. The front end evokes a confident and professional persona, while a coated steel frame guarantees robustness. The cabin has space for three people and is remarkably spacious and comfortable. Perfect for long journeys.
Drive
The IVECO Daily Chassis Cab is powered by either a 2.3 or 3.0-litre engine. These deliver outstanding performance and efficiency. The 3.0L engine is a peach with 180 bhp and 430Nm of torque. This engine can also be paired with the new HI-MATIC transmission.
Practicality
Offering a GVW from 3.5 up to 7 tonnes and a configurable wheelbase length, the IVECO Daily Chassis Cab offers the perfect platform to build on. This model boasts a truck-comparable strength rating, guaranteeing conversion robustness.
Living with it
Bluetooth and USB connectivity will keep you connected, and you can choose the Business Pack or Business Premium Pack for features like a tablet holder and cruise control. You can even add a specific mission pack, such as the Tipper pack, to suit your needs.