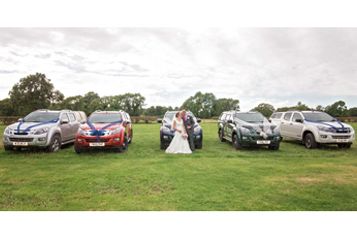 Yorkshire Bride Rejects Wedding Car In Favour Of The Perfect Pick-Up
Instead of opting for classic shiny white wedding cars for their recent nuptials, one couple at the heart of Yorkshire's farming community chose instead a fleet of 11 rugged Isuzu D-Max pick-ups.
David Lee and his bride Esther tied the knot on Saturday 10 September in Croft-on-Tees, Yorkshire. The couple run a farm in Thirsk and David also operates a contract sheep pregnancy scanning service for other farmers in the region. Both David and Esther run Isuzu D-Max pick-ups, which is a firm favourite for farmers across the UK thanks to its ability to cope with tough workloads and challenging rural terrain, while also being refined and comfortable inside.
It was no surprise then that on their wedding day, the groom chose to arrive at the church in style in his own Isuzu D-Max, while a whole fleet of D-Max vehicles, all owned by family members and friends, gracefully delivered ushers and bridesmaids to the ceremony. After completing their nuptials, the newlyweds were chauffeured to the reception in Borrowby in Esther's own comprehensively accessorised D-Max.
Even the local Isuzu dealership helped out, as Colin Huggins, sales manager at York Van Centre, an official Isuzu franchise dealer, explains. "We heard that Mr Lee and his bride, as well as their family and friends, were using D-Max's for their wedding day, and we were delighted to offer them our demonstrators – in 'Blade' and 'Huntsman' specification – for transporting other members of the wedding party.
"The procession of gleaming, ribbon-adorned Isuzu pick-ups making their way through the Yorkshire countryside was an amazing sight, and I'm proud that we played a part in making the day extra special for the bride and groom."
The Lees will have to be parted from their beloved and dependable D-Max pick-ups on their honeymoon, as there was no room for them on the flight to Kefalonia!
Latest News