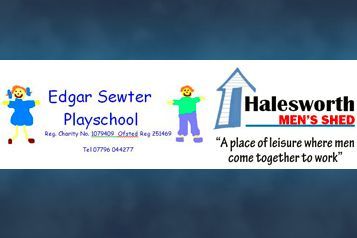 Two local charities set to benefit from JET fundraising campaign
We are excited to reveal the names of the two local good causes that are set to receive funds thanks to a token drop promotion run at JET's AW&D Hammond forecourt in Halesworth.
Edgar Sewter Playschool and Halesworth Men's Shed (supported by Halesworth Volunteer Centre) were selected from a number of charities who responded to the site's recent call for nominations.
From 1st September until 31st October, customers visiting the Norwich Road site will receive a charity token when they spend a minimum of £10 on fuel. They can then choose which of the two charities they would like to support by dropping the token in the relevant collection box. At the end of the period, the charity with the most tokens will receive £150, with the other one receiving £100.
Edgar Sewter Playschool runs nine sessions in term time as well as breakfast, lunch and afterschool clubs, an Out of School Club and a Friday afternoon Toddler club. The playschool provides a safe and stimulating environment for local children to play and learn in a range of indoor and outdoor areas. The organisation runs independently of the primary school and is entirely self-funded. It currently needs funds to buy new play equipment such as floor mats.
The other charity that will benefit from the token drop is Halesworth Men's Shed, which is supported by Halesworth Volunteer Centre. This brand new project provides a leisure space – or men's shed – for members to share the tools and resources they need to work on individual or community projects in a safe, friendly and inclusive venue. Activities include carpentry, joinery, bike repair, electronics, tool renovation, small boat renovation and model engineering. Funds will be used to buy tools and equipment for the project.
Commenting on the fundraising initiative, Louise Hammond, Forecourt Manger, said: "I'm delighted that as part of JET's latest campaign we will be in a position to support two fantastic local causes. Both are literally on our doorstep here in Halesworth and we know what an important role they play in our local community. We're really looking forward to getting our customers behind a fun way of raising vital funds."
Latest News