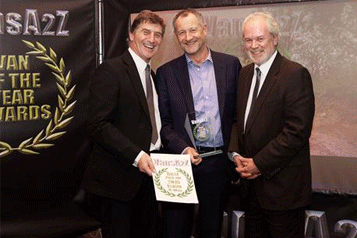 Thrice is nice for Isuzu: D-MAX wins again at VansA2Z
Isuzu UK will be adding another trophy to its cabinet after the D-Max won at the VansA2Z awards once more last week.
Already a firm favourite with British pick-up users, the D-Max won 'Pick-Up of the Year' for the third year running, with judges praising its torquey and responsive 163hp 2.5-litre twin-turbo diesel engine and pioneering five year / 125,000 mile warranty, as well as its ability to act as a platform for a variety of special conversions.
Neil McIntee, editor of VansA2Z, said of the achievement, "It's testament to the D-Max's ability that it has won every year since it appeared in the UK. A sturdy Shire horse or a fancy show pony, Isuzu's big-hearted D-Max pick-up is available as a no-nonsense working tool or with all the bells and whistles; the choice is yours, and that is one reason why it has lifted our Pick-up of the Year award once again."
The VansA2Z accolade follows on from Isuzu UK's best year since it began importing the marque in 1987. Sales grew at double the rate of the overall pick-up market (33.7% versus 15%), ensuring the brand finished 2014 third overall in terms of total sales and number one in the retail sector. As a result, Isuzu achieved a best-ever 16.3% share of the UK pick-up market.
William Brown, General Manager at Isuzu UK commented: "This is a fabulous start to the year for us – the D-Max continues to exceed expectations in every way. Our record sales achievement last year, along with the growing collection of awards, underline the appeal of the D-Max's core strengths of rugged off-road ability paired with car-like refinement. Further enhancements and new models are being introduced in the coming months and we're confident the D-Max has what it takes to win more awards and break more records again this year."
The widest range of body styles available on the market – single, extended and double cab – as well as the largest choice of automatic transmissions, has provided the platform for the Isuzu D-Max to establish itself as a leader in the pick-up sector since its launch in the summer of 2012.
Every new D-Max sold in the UK is backed by the company's pioneering, five-year / 125,000-mile warranty.
To find out more call Hammond Isuzu today on 01986 244078.
Latest News