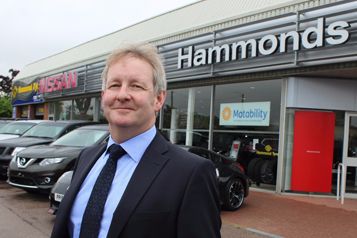 "There's no better time to be a Nissan dealer"
Our Dealership Principal said there's "never been a better time" to be a Nissan dealer as he celebrates 15 years at the helm.
Piers Capleton, of Hammonds Nissan in Halesworth, Suffolk, said he's been blown away by the success of the car maker in previous years.
The public's demand for Nissan vehicles has seen it become the fastest-growing brand in the UK market, overtaking Audi, Mercedes and BMW.
Mr Capleton, joined Hammond Nissan as a Sales Manager in 2000 but quickly worked his way up to be Dealer Principal at our Norwich Road dealership, said: "We are an extremely successful dealership with a band of loyal customers and staff alike, built on trading on a respectable and reputable basis.
"The Nissan brand has enjoyed phenomenal success. In my opinion, there's never been a better time to be a Nissan dealer."
Nissan recently announced passenger car sales for the first six months of 2015 of more than 88,000 units, an increase of 15% compared to last year.
Mr Capleton also praised the family-run Hammond Group for its support over the years. To read more about our history click here.
"They believe in reputation; they believe in treating staff properly," he said.
"Those who work for Hammonds know that, should there be any problems, the company is there to help them."
Latest News