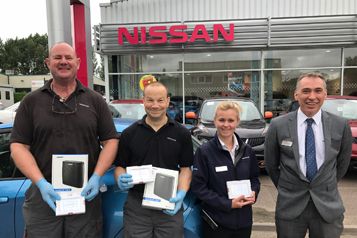 Success At Hammond Nissan.
Progressing into the fifth year of the Nissan Academy Accreditation Programme, our team at Hammond Nissan Bury St Edmunds have celebrated a whole host of achievements across our sales and service departments.
In recognition of their participation and success, each accredited staff member received a Nissan Academy Accreditation certificate and pin badge. This year our accredited Master Technicians received different badges highlighting their achievement.
Special congratulations goes to Master Technicians, Andrew Mutimer and Trevor Howard, who have achieved their accredited status for the fifth consecutive year. In recognition of their continued and consistent efforts they also received a Bose® Soundlink Mini speaker.
We would like to take this opportunity to congratulate our accredited team members.
Latest News