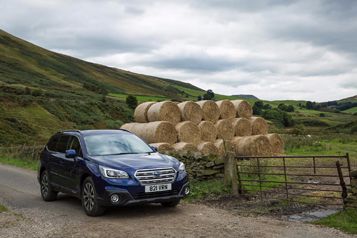 Subaru Eyesight Highly Commended For Safety Innovation
Subaru's EyeSight collision avoidance technology has been singled out for praise in the inaugural Car Tech Awards established by expert automotive and technology reviewers from Carbuyer and Alphr. The awards judges gave the safety system on the Subaru Outback a 'Highly Commended' accolade in the 'Best Safety Innovation - over £25,000' category.
EyeSight is a camera-based driver assistance system that acts as a 'second pair of eyes' for drivers, employing stereo camera technology to monitor the road and traffic ahead for potential hazards. The judging panel rated the Outback's EyeSight system ahead of safety technologies from a number of more expensive models from other brands.
Stuart Milne, Carbuyer editor said: "The brilliance of EyeSight is that its systems are very effective and well packaged, and it goes about its business with the minimum of fuss. Features like Lead Vehicle Start Alert and Pre-Collision Throttle Management are two exceptional features that are of real benefit. The Outback's EyeSight system really impressed us, and it beat some very big names in its class."
The Car Tech Awards have been established to celebrate the best in-car technology currently available to motorists. The awards follow months of testing every major new car on the market today, in order to find the most effective technologies available to buyers.
Paul Tunnicliffe, Managing Director of Subaru UK, said: "We are delighted EyeSight has been Highly Commended by Carbuyer and Alphr. Our customers rate EyeSight very highly and love that the camera-based technology offers peace of mind, in a completely unobtrusive way."
Subaru EyeSight
Fitted as standard to every Subaru Outback sold in the UK with a Lineartronic (CVT) transmission, EyeSight contributed to the Outback's maximum five-star Euro NCAP crash test safety rating. It features six technologies to maximise safety: Pre-Collision Braking, Pre-Collision Throttle Management, Adaptive Cruise Control, Lane Departure & Sway Warning, Pre-Collision Steering Assist, and Lead Vehicle Start Alert.
EyeSight's two colour cameras are located either side of the rear view mirror, and detect the presence of vehicles, pedestrians, cyclists and other potential hazards up to 110 metres in front.
In 2015, Subaru released data from a survey of traffic accidents involving Subaru vehicles in Japan from 2010 to 2014. The data revealed a 61% reduction in crashes for vehicles equipped with EyeSight, compared to those without.
About the Car Tech Awards
The Car Tech Awards, a collaboration between leading car review and technology websites Carbuyer and Alphr, delivers the definitive verdict on in-car technology. Entrants were split into two price categories – under £25,000 and over £25,000 – with expert testers examining audio, connectivity, driver assistance systems, satellite navigation systems, self-parking technology, autonomous driving systems, and safety innovations.
To find out more about the Subaru Outback and its advanced EyeSight collision avoidance technology, click here
Latest News