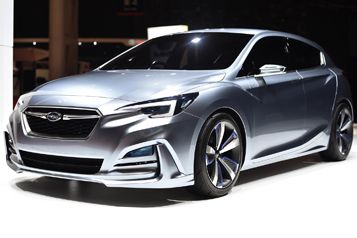 Subaru design concept previews styling of next-generation Impreza
The Subaru Impreza 5-door Concept made its world debut at the 44th Tokyo Motor Show, previewing the design not only of the next-generation Impreza but Subaru's future models as a whole.
New Impreza 5-door Concept
The Impreza 5-door Concept offers all the functionality essential to Subaru and its customers. The concept achieves a higher level of aerodynamic performance while blending form with function, resulting in thoroughly modern styling which hints at how future versions of the car will look.
The Impreza 5-door Concept's sense of quality and modernity is achieved through the choice of a luminous silver as the exterior colour, adding a hint of lustre to the clean, sharp lines of the car. The design study exhibits a wide and low stance, suggestive of the innate stability that Subaru is famed for. The hexagonal grille develops Subaru's visual identity further, while the concept's front combination lamps exhibit a bold reinterpretation of Subaru's hallmark 'hawk-eye' headlights.
The Impreza 5-door Concept boasts a dynamic look and stance, a result of strong, clean character lines extending from the front wheel arch to the rear shoulders. The front and rear combination lights have been designed to express a powerful, modern look, with the taut lines and compact silhouette of the car further enhancing the concept's sportiness and stability.
Latest News