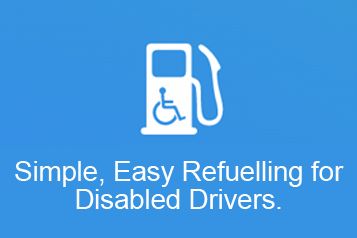 Simple, easy refuelling for disabled drivers now available at A W & D Hammond.
fuelService was created by a frustrated disabled driver who knew there had to be a better way of getting petrol than driving around for hours beeping his horn and hoping someone helped.
It had to be a solution that worked for everyone. Free and easy for disabled drivers, low cost but seamless for petrol stations.
Why fuelService?
fuelService tells you which nearby petrol stations have forecourt operatives available who will refuel your car.
fuelService lets you find out if the petrol station can help before you go there. The service contacts the petrol station and ask if they can help you in the next 30 minutes.
fuelService tells the petrol station that you have arrived and tells you how many minutes the Forecourt Operative will be.
Using The App
Choose your fuel type and simply click the search button.
Choose a petrol station from a list of stations or from a map view.
fuelService will contact the petrol station and ask them if they can help.
If the station can help, drive to the station and notify fuelService when you arrive.
fuelService tells the petrol station you have arrived and let you know how long before the Forecourt Operative will be out.
You can rate the station and provide feedback so the station can improve if needed.
Currently available for iPhone, Android and Windows Phone
No Need For A Smartphone
You can also use fuelService by dialling our interactive voice service or by sending an SMS TXT message.
Interactive Voice Call
Call the fuelService number +44(0)161 694-8000 from your phone before you go to the petrol station.
You will be asked to enter the 5 digit number of the station you want to attend. The number for our A W & D Hammond Jet Forecourt is: 12502
After entering the number just follow the instructions you are given.
SMS TXT Message
Send a TXT message to the fuelService number +44(0)7400-372000 with the stations number in it. For example 12502 if you are at our A W & D Hammond Jet Forecourt.
fuelService will message you back.
When you arrive at the fuel station send another message with the station number and the pump number you are at. For example 12502 3 if you are at pump number 3.
fuelService will then tell let us know that you have arrived.
Latest News