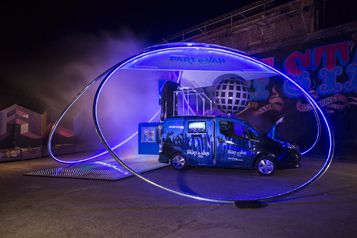 Party on! Nissan turns 100% electric e-NV200 into the ultimate part e-VAN
Vehicle unveiled ahead of the UEFA Champions League Final
Zero Emission vehicle will be displayed outside The Olympiastadion ahead of kick-off
One-off vehicle's key features include a disco ball solar array which feeds power to some of the van's elements
Watch the PART e-VAN in full swing here: https://youtu.be/gdTew0hZ_Rs
Nissan has transformed its all-electric e-NV200 into the ultimate party on wheels. Click here to see the video on our Hammond Nissan Facebook page.
The vehicle – called the PART e-VAN and powered by the 100% electric e-NV200 – will charge into Berlin for its inaugural reveal tomorrow night ahead of Saturday's UEFA Champions League Final, before exciting fans outside The Olympiastadion prior to kick-off.
Some of the unique van's standout attributes include a dazzling disco ball solar panel array on the roof which absorbs daylight to power some of this one-off vehicle's features, an augmented reality system where users will be able to jump into their own party scene before sharing it with friends on social media and a custom-made sound system capable of throwing the best silent disco party.
Nearly a year after it first came off the production line in Barcelona, Spain, Nissan has highlighted the customisable capacity of its electric van by creating this all-electric rolling party – the PART e-VAN – highlighting to potential customers that innovation can lead to pure excitement for a business.
Following its debut in Berlin the PART e-VAN will go on a European road show with its second stop scheduled for the endurance racing spectacle, 24 Hours of Le Mans, before travelling throughout Europe.
Bastien Schupp, Vice President of Marketing for Nissan Europe, said: "The PART e-VAN sums up what Nissan is all about – innovation and excitement for everyone. And what better place to showcase the ultimate party van, than the UEFA Champions League Final, one of the greatest sporting events on the planet.
"Nissan has time and again proven its commitment to electric cars, and as we electrify Berlin with the 100% electric e-NV200 here at the Olympiastadion – it's the energy from our fans that inspires us to innovate."
The van's key features:
A DJ booth on the roof with sound system and silent disco capabilities
A disco ball solar panel array on the roof of the van which feeds power to the van
A cocktail maker which will supply electric-inspired cocktails
Two independent augmented reality screens on the side panels of the vehicle which allow users to join their own party in a virtual reality
An LED dance floor at the back of the vehicle
A fridge for drinks
A six metre high light-up canopy
Latest News