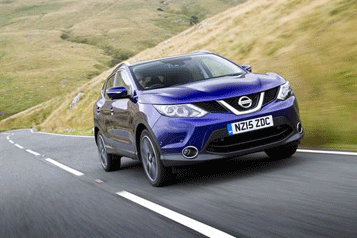 Nissan named fleet world's Most Improved Manufacturer
Nissan has been named Most Improved Fleet Manufacturer of the Year at the prestigious Fleet World Honours in London.
A panel of expert judges selected the carmaker as their winner following its outstanding performance in 2014.
They also named the British-built Nissan Qashqai – one of the nation's most popular and successful company cars – as its Best Crossover.
Nissan registered 63,358* passenger cars during the calendar year – an increase of 13.6% on 2013 – to break all previous fleet sales performance records.
It also launched a number of new products, giving it one of the youngest and most exciting line-ups in the industry, and overtook premium competitors to become the country's seventh largest fleet manufacturer.
At the same time, Nissan also strengthened and expanded its corporate sales team, introduced new systems for the benefit of fleet customers and made improvements to its nationwide network of specialist business centres.
Steve Moody, Editor of Fleet World magazine, said: "Nissan has invested heavily in its fleet team in recent years, launched excellent new cars such as the Qashqai, revamped its website and enforced new fleet service standards on its network.
"Alongside that, its sales in the corporate sector have also increased too, meaning that the firm is increasingly a major force in fleet."
Of the Qashqai's Best Crossover award, he added: "Despite a swell of competition in the crossover segment, the Qashqai remains the benchmark.
"It's the only car in its class to offer CO2 emissions under 100g/km, and strong residual values reflect its ongoing desirability. With purposeful styling, clever on-board technology and a hatchback-like driving experience, Nissan is leading the pack."
Receiving the awards, Michael Stewart, Fleet Planning Manager at Nissan Motor (GB), said: "We are thrilled to receive two such prestigious awards from an organisation that understands exactly what fleet operators are looking for in a vehicle and a manufacturer.
"The improvements made to the Nissan line-up in recent years are there for all to see, with the new Qashqai, Juke, Pulsar and X-Trail all being launched during 2014.
"But we have been busy working behind the scenes, strengthening our team and our processes, to ensure we offer fleet customers levels of support and services befitting the quality of the products in our range.
"This award shows that we are on the right track but we will be making further improvements in the months ahead."
Latest News