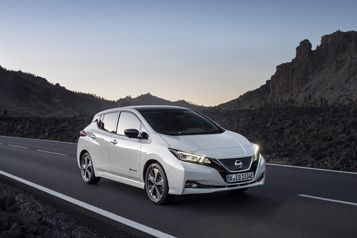 Nissan LEAF Tops Electric Car Sales In Europe
As the zero-emission car continues to win over customers, it's been announced that more than 18,000 new Nissan LEAF's have been sold since January, making it the best-selling electric vehicle (EV) in Europe.
This car really does have it all, from the exhilarating acceleration, to the environmental performance. It comes with many driver assisted technologies and a large battery that allows a driving range of 168 miles.
Since going on sale last October, this ground breaking EV has stolen the hearts of customers across Europe. It has won several awards this year, including the '2018 World Green Card' award at the New York International Auto Show as well as receiving a 5-star NCAP safety rating, (New Car Assessment Program).
As the flagship model for Nissan Intelligent Mobility, it represents the companies vision to change how cars are powered and driven. There are many new features such as Nissan ProPILOT, ProPILOT Park and e-Pedal. So far, 72% of LEAF have bought models that come with the ProPILOT driving system.
Available on the N-Connecta and above, ProPILOT is designed to make things easier. It has the ability to maintain your speed, keep you in lane and brakes for you if necessary. Whether it's dealing with traffic jams or keeping your distance from the vehicle in front, ProPILOT has it all to ensure a more enjoyable ride for both the driver and passengers.
Gareth Dunsmore, Electric Vehicle Director at Nissan Europe said "The momentum continues to build for electric cars. The new LEAF has transformed the experience of driving, with technologies like e-Pedal, capable of reducing braking interaction by up to 90%, showing more customers the benefits of electric mobility that Nissan offers."
With more than 340,000 global sales since the LEAF was launched in 2010, the demand for this car continues to increase. Over the first 6 months of 2018, sales have rocketed meaning this EV has reinforced its status as the best-selling electric car on the planet.
If you want your heart stolen, call Hammond Nissan on 01986 244076 today.
Latest News