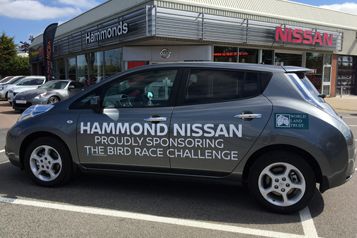 Nissan LEAF Charges Up For Bird Race Challenge
An environmental charity has flocked to a Suffolk Nissan dealership to collect a 100% electric Nissan LEAF for a unique race.
The World Land Trust team supported by famous conservationist and TV presenter Bill Oddie, chose to go emission-free for the Bird Race Challenge, a quest to find as many different bird species in the Suffolk and Norfolk regions within a 24-hour time period on May 13th.
The challenge will involve teams looking to outdo each other with their ornithological discoveries as well as trying to raise as much for charity as they can. And this year, World Land Trust is also the official charity beneficiary. All funds raised will go towards reforesting areas of Bolivia where forests have been lost.
The team collected their Nissan LEAF — which has a range of 155 miles* on a single charge — from Hammond Nissan, Norwich Road, Halesworth, last week.
Dan Bradbury, Head of Development at World Land Trust and chief driver, said: "We thought if we were going to take part in this challenge, we should reduce our carbon footprint as much as possible. We immediately thought of the Nissan LEAF and the team at Hammond Nissan are now telling us exactly where all the charge points are so we can plan our routes."
Bill Oddie, a World Land Trust Ambassador, added: "This is the first time I've been in a Nissan LEAF but I am very much looking forward to experiencing something new!"
Piers Capleton, Dealer Principal, said: "We were absolutely delighted to be able to help the World Land Trust by providing them with a Nissan LEAF — it's the perfect car for their challenge."
From left, race organiser Andrew Whitelee, John Burton and Dan Bradbury from the World Land Trust, and Bill Oddie, conservationist, TV personality and World Land Trust ambassador.
* Based on New European Driving Cycle (NEDC) figures.
Latest News