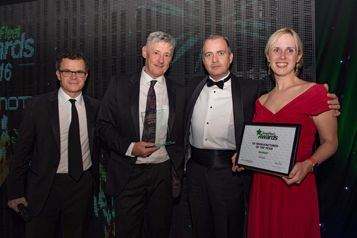 Nissan Claims Back-To-Back Greenfleet Awards
Nissan has been named Electric Vehicle Manufacturer of the Year for the second year running by influential industry title GreenFleet.
The brand was recognised once again for its leadership of the electric vehicle sector and in particular for its efforts to support and increase electric vehicle usage in the fleet sector.
And there was more good news as three of the brand's EV customers - eConnect Taxis, Jersey Post and Cambridge University – were also honoured.
Presenting Nissan's award, Colin Boynton, Events Manager at GreenFleet, said: "Nissan continues to lead the way when it comes to taking electric motoring to the masses.
"With new battery technology and improved range it offers an award-winning range of electric vehicles that warrants us, once again, naming the brand our EV Manufacturer of the Year."
Receiving the award, Karl Anders, National EV Manager for Fleet at Nissan Motor (GB), said: "We are absolutely thrilled to have won this prestigious award for the second time in succession.
"We pride ourselves in leading the way in the fleet industry with our EV range, and this award is great recognition of our continued effort."
Nissan were delighted to celebrate wins for three key partner fleets on the night too, all of whom have led the way with Nissan electric vehicles.
eConnect Cars of London, which operates a highly successful and growing fleet of all-electric Nissan LEAFs, was named Private Hire/Taxi Company of the Year.
Meanwhile, Jersey Post was named Private Sector Fleet of the Year after adding 15 Nissan e-NV200 vans to its fleet of delivery vehicles earlier this year.
And Cambridge University – one of five universities with Go Ultra Low status - won the Public Sector Fleet of the Year award. The University has a fleet of five Nissan e-NV200s with a further two under conversion.
Latest News