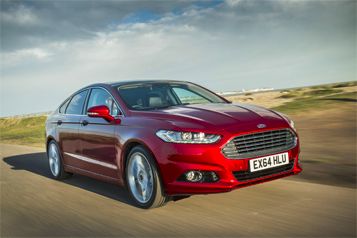 New Ford Mondeo Crowned Car of the Year by Honest John Readers
BRENTWOOD, Essex, 21 May, 2015 – Ford claimed four key accolades at this year's Honest John Awards, with the all-new Mondeo scooping the title of "Most Popular Large Family Car'" and the ultimate "Car of The Year" prize. Transit Custom was named "Most Popular Van" for the second year running and Fiesta "Most Popular Small Hatchback".
This year's Honest John awards were split into 15 main categories from 'City Car' to 'Performance Car' and the 'Car of The Year' with the awards determined by the number of vehicle searches on the honestjohn.co.uk website.
Dan Harrison, editor of honestjohn.co.uk, said: "The latest Ford Mondeo has generated a huge amount of interest in its own right and has fought off strong competition to become our most popular large family car and car of the year. The number of users viewing it has been nothing short of phenomenal and it's easy to see why: it has an upmarket interior, efficient engines and is a great all-rounder."
Of the Ford Fiesta, Dan Harrison said: "We are big fans of the Ford Fiesta. Not only is it economical, fun to drive and attractive to the eye, but it is also incredibly refined, which means it is perfect for town and motorway driving. In fact, few small hatchbacks come close to matching the Ford for all-round ability, which is reflected by its unwavering popularity with the readers at HonestJohn.co.uk."
The Ford Transit Custom was awarded "Most Popular Van" for the second year in a row, with Dan Harrison adding: "In our opinion, the Custom is the benchmark by which all other one tonne vans are judged, with the Ford offering a practical load area and a superb range of 2.2 TDCi engines. Indeed, over the past 12 months, no other commercial vehicle has come close to matching the Custom's popularity, with more page views than any other van on the site."
honestjohn.co.uk was set-up in 2000 to help consumers with advice on buying, selling and running cars.
Call our Commer
Latest News