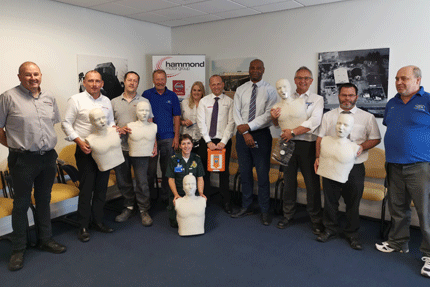 New Community Defibrillator at Hammonds
Hammonds are extremely pleased to announce that they now have a public community defibrillator installed on their JET forecourt site in Halesworth, which is easily accessible 24 hours a day.
Sudden cardiac arrest claims around 150,000-200,000 lives a year in the United Kingdom with survival rates only around 5-10% outside of a hospital setting.
The purpose of the defibrillator is to get the heart into a more regular sustaining beat by passing an electric charge through the heart muscle with the first three or four minutes being the most vital.
In an emergency a telephone operator can talk anyone through the various working steps and many of Hammond's staff have already had training from the East Anglian Trust. (Instructions are on the cabinet)
A special mention is also reserved for Shane Finch and the Great Yarmouth and Waveney Heart Care Cardiac Support Group who also contributed to the purchase of the equipment.
A W & D Hammond, Ford Dealer Principal, Paul Marjoram said "We are very pleased to be able to add our contribution to the town. We hope that we never have to use the equipment, but in the event we do, it may help to save someone's life."
Latest News