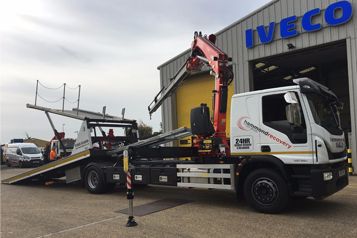 New Addition To The Hammond's Recovery Fleet
After 10 months of planning, the latest vehicle to join the A W & D Hammond Recovery and Breakdown fleet is on the road.
This purpose-built specialist vehicle will patrol the roads of East Anglia, picking up accident damaged and broken down vehicles.
The vehicle which has a top deck and rear spectacle lifting equipment can carry three cars at once.
It is also equipped with a Fassi F195A lorry mounted crane with an 18-meter reach to clear ditches, hedges and other obstacles.
As an Authorised Iveco Commercial Repairer and Daily Van Sales Centre the only choice of chassis was an Iveco. The model settled on was a Eurocargo 180E.
This brings the total fleet up to 25 vehicles; which operate 24 hours a day, 365 days of the year.
Hammonds history in recovery goes way back to 1962 when Roy Hammond first attended breakdowns on his motorbike with just a few spanners and a hammer in his toolbox!
Things have obviously changed since then and as cars and commercial vehicles have become more sophisticated, so have the recovery trucks.
For instance, the Fassi lorry mounted crane is now fully hydraulic and computerised and the operator uses a remote-control unit to operate it.
Andy Hammond, Operations Manager commented, "this latest equipment investment is exciting and keeps us at the forefront of the industry, we have very loyal and dedicated people in this department and they deserve the best equipment on the market."
Hammonds can recover anything from a moped to a 44-tonne articulated truck and also have a specialist bus and coach division.
The new vehicle will be based at our Ipswich premises but will also work out of our headquarters in Halesworth.
Latest News