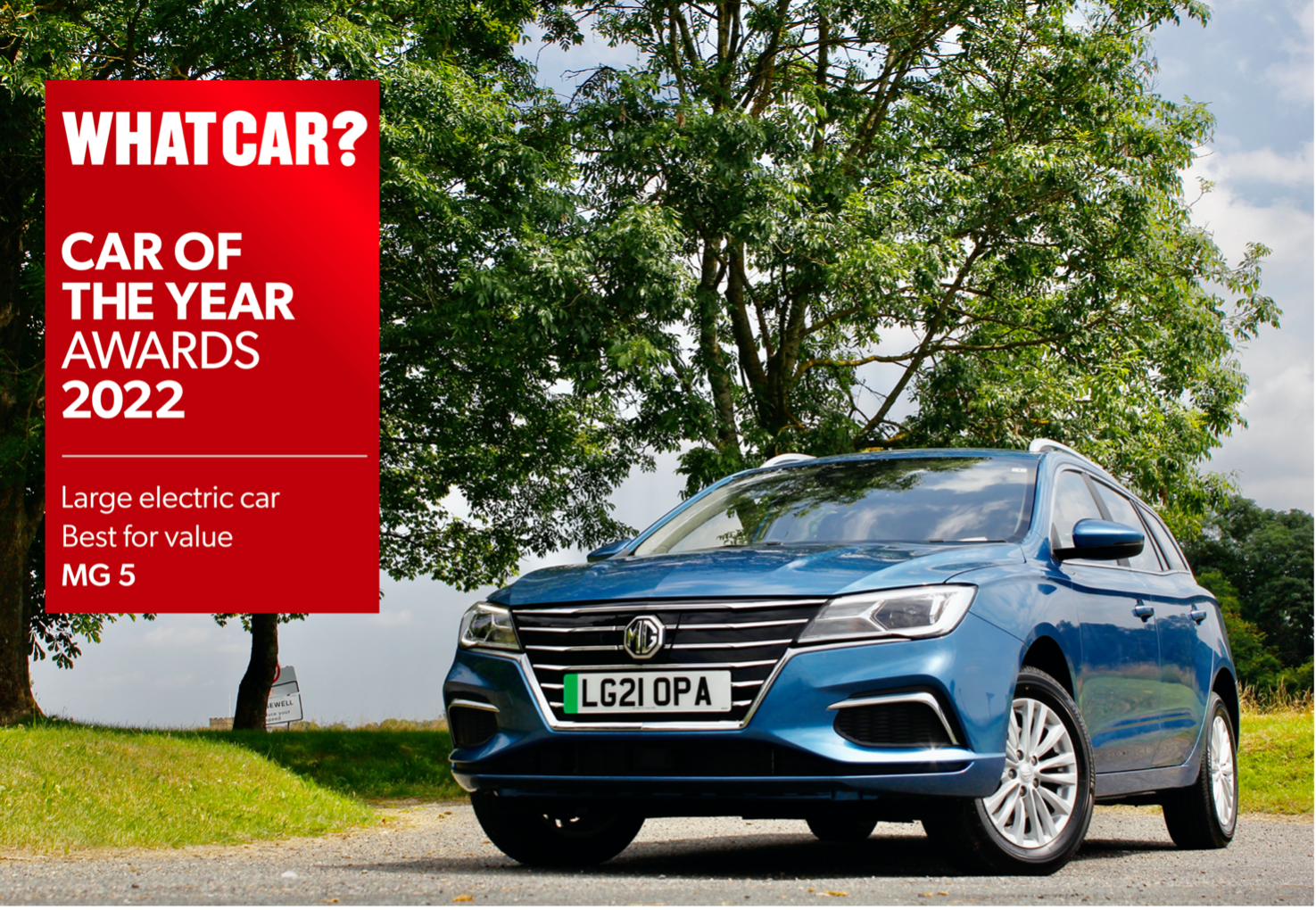 MG5 EV TAKES DOUBLE HONOURS IN WHATCAR? AWARDS
MG Motor UK has added two new trophies to its cabinet after the MG5 EV was named the Best Large Electric Car for Value and Best Electric Estate in the prestigious What Car? Awards.
WhatCar?, Britain's best known consumer car title, has praised the innovative EV for its great value pricing and excellent equipment, as well as its build quality and practicality.
The editer of WhatCar?, Steve Huntingford said: "While all electric cars are cheap to run, the MG5 is one of the few that manages to combine a low list price with a good range. And it's not like that value forces you to accept major compromises elsewhere; the interior is well screwed together, even the entry-level Excite model comes with plenty of kit, and being an estate, the MG5 is a very practical choice."
Having debuted in the Summer of 2021, the MG5 EV Long Range offers a range of up to 250 miles and is unique in the market as it offers the practicality and flexibility of a capacious station wagon with great driving dynamics and no driving exhaust emissions.
Its longer-range variant sits in MG's rapidly expanding electric car portfolio, alongside the MG ZS EV and the MG HS Plug-in Hybrid, which between them accounted for over 40% of MG's total sales in 2021. The brand has the highest share of EV sales for any brand selling both EV and ICE cars in the market.
Guy Pigounakis, the MG Motor Commercial Director, said: "Our MG5 EV has already won some impressive awards since it was introduced but to receive honours from a title as prestigious and well-respected as WhatCar? is an incredible achievement.
"We are delighted to receive the award, which is great news for our customers and our franchise partners as we continue to grow and develop the MG brand in the UK."
There are currently six models that MG offer in the UK, which include three plug-in cars – the new MG ZS EV, the New MG5 EV and the MG HS Plug-in Hybrid – all backed up by MG's comprehensive 7-year warranty and fast-developing dealer network.
Latest News