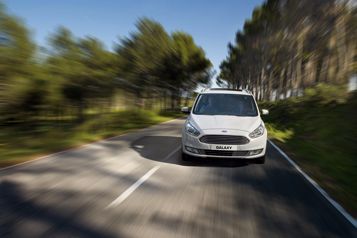 It's Three In A Row For The Galaxy As Ford Dominates UK's Fastest Selling Cars
Ford Galaxy clocks up its third month as the UK's fastest selling car in November
Cars carrying the Blue Oval badge dominate the nation's regions too
Ford Fiesta appears 24 times in ten of the regions' top ten quickest selling cars
The Ford Galaxy has clocked a remarkable three months in a row as the UK's fastest selling car in November.
The 2012 Ford people carrier features diesel power and automatic transmission and took just 19 days from landing on the forecourt to finding a customer in what is generally a quieter month for used car sales. The Ford Galaxy was the nation's number one seller in October (it took an average of 11 days to sell) and in September (12 days).
It's the first time a model has racked up three consecutive months as the nation's number one car that is the quickest to secure a buyer from appearing in the showroom. Fords have also proved in demand with buyers across the nation's different regions proving to be the fastest selling make of car in six of them.
The Ford Fiesta in particular was being snapped up and ranked first in the South West and took the top three spots in Wales. The small hatchback has been the UK's best-selling new car since 2008 and it is proving to be a big hit with owners looking for a pre-owned example.
The SMMT reported record used car sales in Q3 with over 2.1 million second-hand cars changing hands, a rise of 7.9% over the same quarter in 2015. Of the top 10 models in Q3 the Ford Fiesta was the number one model in terms of sales (90,979), clocking nearly a third more than the next most popular pre-owned model, the Ford Focus (63,172). Of the top 10 biggest selling make models in Q3 2016, nine figure in the UK's and regions top ten fastest selling cars in November.
Karolina Edwards-Smajda Retailer and Consumer Products Director said: "The Ford Fiesta has performed very strongly in November's fastest selling cars and it's the UK's number one best-selling new and used car in 2016. Understanding which versions are in demand in your local area, however, means a retailer using their expert knowledge and data to ensure they are holding the right stock. In demand cars that are priced to the market sell quickly and mean more profit per sale. Another benefit of an effectively run forecourt is it generates a higher stock turn in a year to make even more profit for the retailer. Dealerships using i-Control benefited from an average of 29 days to sell compared to a market average of 66 days in November and placed them at an advantage over their rivals."
Latest News