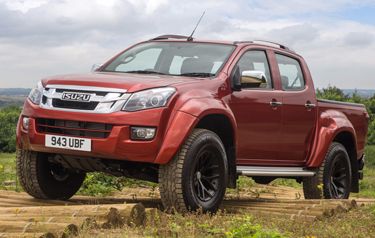 Isuzu D-Max Arctic Trucks AT35: the most extreme D-Max ever sold
Isuzu and Arctic Trucks have created a pick-up that is engineered to excel in the most challenging environments.
Whether in the wilds of the British countryside or on building sites in the city, the AT35 is the most robust and capable pick-up that Isuzu UK has ever created.
The AT35 exclusive 4x4 features come from Arctic Trucks' 25 years' of experience re-engineering pick-up vehicles for sub-zero off-road conditions. In Iceland, Arctic Trucks have enhanced the D-Max for rescue and highland utility work; this heavily influenced the creation of the AT35.
The AT35 retains the highly-efficient, 2.5-litre twin-turbo diesel engine and impressive 1-tonne payload and 3.5-tonne towing (braked) capacities that have helped make the Isuzu D-Max one of the most popular pick-ups.
Owners of the AT35 will benefit from the same ultra-low running costs that all Isuzu D-Max owners enjoy.
This is thanks to a competitive 42E insurance rating, low-cost finance packages and a comprehensive five-year / 125,000 mile warranty package. In addition, costs are kept low by 12,000-mile or 24-month service intervals, three years recovery and assistance cover, a three-year paint warranty, and a six-year anti-corrosion warranty.
Enhanced running gear
The AT35 introduces several key hardware enhancements, ensuring extraordinary off-road capability unprecedented in a pick-up on sale in the UK. The suspension is re-engineered exclusively for the AT35 with Fox Performance Series dampers, delivering increased mobility over even the most rutted tracks and brutal boulders.
Special all-terrain Nokian Rotiiva AT tyres endow the AT35 with improved all-round grip in the most slippery conditions. These huge 35-inch tyres are specifically engineered for off-road use and are fitted to 17" x 10" alloy wheels.
The specification of the tyres follows Arctic Trucks' assertion that any off-road journey can be completed without the assistance of a winch or other rescue materials. Deflation and inflation of tyres – helped by the AT35's on-board inflation kit – should be part of the adventure. The tyres are so bulbous they can even allow the car to float on light snow slush.
The ride height is 125mm higher than that of the equivalent standard Isuzu D-Max. The AT35 sits 55mm higher than a standard double-cab D-Max, making for six degrees' extra approach angle gain, and an added 10 degrees ramp angle flexibility.
Strong chassis, powerful engine, manual and auto transmissions
The AT35 is based on the tough and durable Isuzu D-Max chassis. Made of high tensile strength steel with cross-member braces to ensure exceptional torsional rigidity and large cross-sectional dimensions for a strong and stable structure. Additional cross braces aid torsional rigidity and also spread the weight of payloads evenly, enhancing the vehicle's laden handling balance, both on- and off-road.
Buyers of the double-cab AT35 can also specify auto transmission. The five-speed automatic features sequential manual shift control so that drivers can take direct control of gear selection for a more engaging experience – or allow the transmission to operate fully automatically to suit their mood and the terrain.
Drivers can switch between two-wheel drive and high-ratio four-wheel drive at speeds up to 60 mph (100 km/h). Low-ratio four-wheel-drive can be engaged while stationary with the transmission in neutral, and, combined with other Arctic Trucks enhancements, means the AT35 can crawl up and over almost anything.
Comprehensive equipment
Exterior standard features include projector headlamps, body-coloured front bumper, chrome trio of door handles, grille and rear bumper, LED rear lights and a rear load liner. The double-cab model also adds roof bars and rear parking sensors for further increased practicality. Custom receiver hitches fitted front and rear are given the Arctic Trucks treatment with style-led covers that hide the points when not in use.
A six-speaker audio package with an 'Exciter' speaker in the roof lining, plus iPod/USB/Bluetooth connectivity, provides high-quality sound. Heated and folding door mirrors (including side indicator repeaters) are standard, as is a leather steering wheel with audio and cruise controls.
The double-cab model also includes full leather upholstery for an even more luxurious interior, as well as automatic climate control air-conditioning. This is controlled by a large, circular Heating, Ventilation and Air Conditioning (HVAC) selector.
Styling upgrades include, an Arctic Trucks Truxedo that provides added security for cargo in the load bed, as well as the Arctic Trucks Sports Bar for improved styling.
Off-road extras include, a 27-LED square work light, skid plates for enhanced under-body protection, and an ARB tyre inflator with inline gauge help the most adventurous continue on their way.
Speak to Hammond Isuzu today on 01986 244078.
Latest News