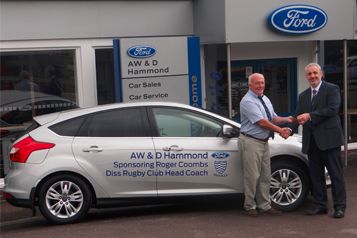 Head Coach ready for the new season
With the new season about to start and narrowly losing out on promotion last year when they lost in a play-off final in the last five minutes, Diss Rugby Football Club is raring to go.
The club and its supporters have been working hard all summer making numerous improvements in all areas. As long-time sponsors of the club, our Ford dealer, AW & D Hammond is providing a sponsored car for the club's Head Coach, Roger Coombs.
Roger Coombs, now into his second season as Head Coach has strengthened both the coaching and physio teams immensely during his tenure. He also brings with him a wealth of experience, including a spell coaching the Pakistan national side. Promotion to London 1 North is his main objective. "Having reliable transportation enables me to carry out my duties with a lot more ease and allows me to concentrate on the important things like moving the club in the right direction" said Roger
Paul Marjoram, Dealer Principal for AW & D Hammond commented, "We have been long standing supporters of Diss Rugby Club for many years and we are very pleased to be able to supply Roger with a Ford Focus 1.0 litre EcoSport which has superb performance coupled with great fuel economy. Diss are a progressive, very well run club with a strong junior section and a reputation for bringing young lads through the ranks into the First XV. The car will be put to good use by Roger and will help him keep mobile in his coaching and scouting roles"
Latest News