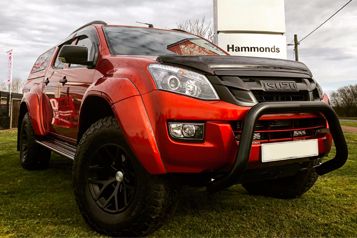 Have Some Of That!!
How do you go about making the most extreme pick up that little something more?
You give Hammonds Isuzu, 1 month, an extensive wish list and budget to suit...that's what you do!!
With strict instructions from our customer to making the most eye catching and best Arctic Truck on the road, we knuckled down and created this.......Isuzu D-MAX AT35 Arctic Truck.
This Arctic Truck has had no expense spared! We've completely "Matt Black'd" all existing chrome, taken the already lairy Nokian tyres, and replaced them with a fantastic set of BF Goodrich AT KO2's. The existing Isuzu head unit has been swapped for the ALPINE X800-DU with reverse camera, sub-woofer and amplifier fitted for that heavy duty sound. All of the door cards have been dynomated and sound proofed. The buck has been transformed with a 2 drawer system, dog divider and an Eberspacher night heater system with remote start. Along with the entire overhaul of all the chrome parts, the exterior benefits from an Aeroklas glazed canopy, bed rug and front A-bar with lower grill mounted Lazer Lights. A rear lower mounted Lazer Light works in conjunction with the reverse light to aid hitching a trailer. The Acrtic Truck tow bar receiver hitch benefits from a one off bracket for the electrics. To top it off, we've had a bespoke premium leather conversion and tinted all of the rear windows including the hardtop!!
Quite simply, we believe, we have made the most extreme, most eye catching, most customised Isuzu D-MAX AT35 in the country!!!
We couldn't have done this without a little help from our friends, so a massive thank you to;
DK SCHWEIZER - for the phenomenal leather
Van Systems UK LTD - for the fantastic drawer system and night heater
Audiofile incar - for the superb sound system
JEM Vehicle Movements - for their efforts in taking care of the logistics, taking the truck to and from suppliers.
Our valeting team for the efforts for ensuring the vehicles are impeccably cleaned.
Aaron Fenn our technician who was given the task of building this one of a kind project
And of course, Isuzu UK and Arctic Trucks UK for building this awesome bit of kit!
If you're looking for an Isuzu, then look no further than Hammonds Isuzu because we are not only #Isuzupros but most importantly #WEKNOWTRUCKS
Latest News