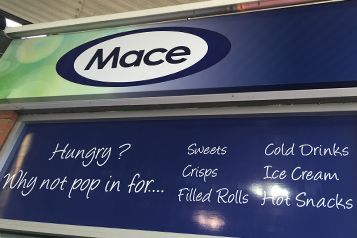 Hammonds Mace shop receives new facelift
Hammond Motor Group has continued to invest in the future with a refit of their shop at its multi-award winning Jet garage.
The shop now includes new flooring, a chiller and a refreshment unit offering 'bean to cup' hot drinks from Freshpac. Other locally sourced products include the Metfield Pie Company, Stradbroke Bakery, and Barnies Rolls. Fresh meats, a vegetable selection and salad are also new to the store.
The shop still continues to offer confectionary, chilled drinks, newspapers, stamps, alcohol, cigarettes, E-Liquid products, Calor Gas, Lotto and Payzone.
Promotions continue to be a main theme of the forecourt. This March includes a chance to win Amazon vouchers, details of which are available in store.
Store Manager, Louise Hammond commented, "We are very pleased with the new shop refit. We can now support local produce at the same time giving our customers more choice and a better shopping experience".
Hammonds Jet garage continues to remain at the heart of the community and continues to support Edgar Sewter Primary School, Edgar Sewter Playgroup, Halesworth Men's Shed and the Guide Dogs. They also continue to run a monthly carrier bag scheme, where all money received goes to a charity of the public's choice.
Latest News