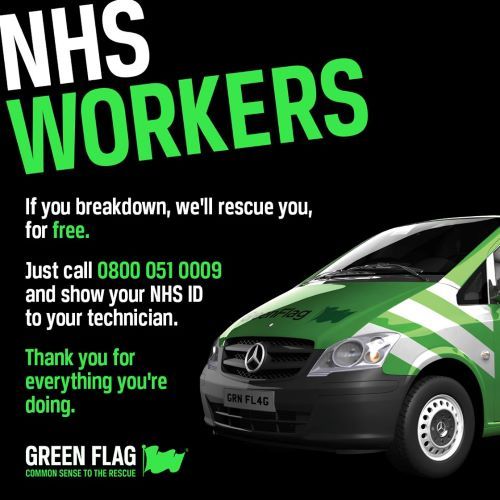 Hammond Recovery works with Green Flag to help the NHS
A helping hand for NHS workers
With the health service working tirelessly to help the UK respond to COVID-19, Green Flag are offering their support. They're providing free breakdown assistance to any NHS employees that need their help.
If you break down on your way to work or back home from it, they can help you. This can be at the roadside, at your place of work, or at your home before you set off.
They always aim to fix your vehicle at the roadside. If they can't, they'll get your vehicle to a garage, and take you to work or back home.
This offer is available now. If you need their help, call this dedicated number on 0800 051 0009. You'll need to let them know your NHS identification number when you call, and please show your technician your NHS ID card when they arrive.
They will be running this service for as long as it's required throughout the pandemic. They will be keeping you and their technicians safe, and maintaining social distancing.
Hammond Recovery work in conjunction with Green Flag to help with their recovery needs.
If you are not an NHS worker, help is still at hand. If you have broken down, we can recover you. Just call 01986 834099 for a qoute or click HERE for more information.
---
All the terms and conditions
They'll come to the rescue of NHS workers if you breakdown on your way to or from work. This can be at home, at the roadside, or at your place of work.

This service is only applicable to NHS staff residing in the UK, and is not available for NHS volunteers.

You'll be required to show your NHS ID to confirm you're eligible for the service.

If they can't get your vehicle going again, they will get you to work or back home, and get your vehicle to a garage if required.

This offer does not cover you if you're involved in a collision or put the wrong fuel in your vehicle. If this happens, your motor insurance may be able to help.

If parts are required to repair your vehicle, you're responsible for the cost.

The service is offered for a limited time only, and they reserve the right to change or withdraw the offer at any time.

If you're an existing Green Flag customer, you can choose to use this free assistance if travelling to and from work, or use your full policy coverage which is not restricted to just journeys to and from work (and may provide you with additional benefits).
Please see Green Flags own Q&A's below
What should I do if I break down?
First off, don't panic. Pull as far off the road as you can and switch on your hazard lights. If it's safe to do so, get out of the vehicle and move to a safe location.
Call us on 0800 051 0009 and have your NHS ID card to hand.
Tell us as accurately as you can about your location and what's happened, that way we can ensure you get the right service as quickly as possible.
We may be able to talk you through some simple steps to get your vehicle going again, meaning you won't have to wait for a recovery vehicle. If not, we'll get a technician to you as soon as possible.
Tying in with Government guidelines, we'll ask you to ensure a two-metre distance where appropriate. If we need to tow you, we'll encourage you to stay in your vehicle while we get you to your chosen location.
Are there any vehicle restrictions?
We can help if your vehicle is a car, van or motorcycle, provided it weighs no more than 3.5 tonnes, and is no more than 7 metres long and 2.55 metres wide.
Why are other key workers not included?
We recognise the important roles key workers are undertaking every day. We're committed to doing good where we can, and we're supporting our customers, NHS workers, and our local network for now. If the situation changes, we'll update this page and our main COVID-19 information page with any news.
What if I already pay for a rescue product as an NHS employee?
We understand that there may be many NHS workers that already hold a Green Flag policy. For those that do, if you chose to use the free assistance, it will not affect your existing Green Flag policy cover, now or at renewal.
For those customers who have a full level of cover with us, that need assistance over and above travelling to and from work, then we encourage them to contact us and make a claim the same as they would normally.
I work for the NHS, but my partner drives me to work. Are we covered?
If your partner drives you to work, and you break down on the way, we'll arrange your onward journey to get you to work.
How long will this offer for NHS staff last?
We've put this temporary service in place to support the NHS as they work to support the nation.
We'll be reviewing it on an ongoing basis throughout the pandemic. We reserve the right to change or withdraw the offer at any time. Should we need to, we'll update this page.
Will you organise a rescue from my house, or is it just when I'm out of the house?
If your vehicle has broken down at your house and you're trying to get to work, then you can call us out and we'll help you at home.
What will you cover as part of the service?
We'll support you with roadside assistance. If we're unable to repair your vehicle at the roadside/place of breakdown, we'll take you to your place of work, or indeed your home. If your vehicle then needs to be taken to the garage, we'll take it there. Once we've delivered the vehicle, we'll inform you and let you take over the necessary steps after this.
If you're an existing Green Flag customer and have a level of cover which is greater than this, then we ask you to follow the usual steps in making a claim.
What happens if you can't repair my vehicle?
If we're unable to fix your vehicle at home, work, or at the roadside, then we'll get you home or to work, while also taking your vehicle to a local repairer. We may also be able to assist in arranging repairs for you at a local garage, but any costs will need to be paid by you in this instance.
Can I get assistance in the Republic of Ireland?
No, we can only provide assistance in the UK.
Will you offer any of your other Direct Line Group products (Direct Line, Churchill, Privilege, Darwin etc.) to NHS workers?
As the situation continues to change, we're regularly reviewing a variety of options to support the NHS with our other existing products.
Latest News