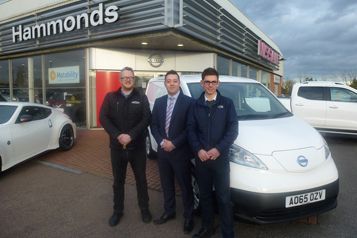 Hammond Nissan help Adnams grow their green credentials
Hammond Nissan has been helping Adnams, the Southwold based brewers and distillers, enhance their sustainable operations.
In February, Hammond Nissan loaned Adnams a Nissan Leaf (an all-electric vehicle) to discover how easy it was to charge and drive. Adnams had recently installed a free charging point at their Swan Hotel in Southwold making it even easier for their visiting guests.
Then last month it was a loan of the all-electric Nissan e-NV200 van for their shop in Southwold which has really put the wheels into motion. The fantastic e-NV200 has the lowest running cost of any commercial vehicle, zero emissions and a 703kg payload. Benedict Orchard, Environmental Sustainability Manager at Adnams, commented, "We wanted to explore the potential for electric vehicles as an alternative fuel for some of our fleet. The Nissan e-nv200 stood out as the best in class to meet the needs of our Southwold Shop."
Adnams tested the e-NV200 for use by their flagship shop as a delivery vehicle for local customer orders. They put the van through its paces over a couple of weeks and fell in love with it; so much so that they placed an order for one at the end of the trial.
Orchard then added "The new van is a great step up in our constantly evolving 'sustainability story' at Adnams, which when added with the fact our electricity supply is sourced from 91% renewables, the electric van ensures sustainable delivery of our beers and spirits". So keep your eyes peeled on Southwold's roads from the end of May.
David Kindred, Sales Manager at Hammond Nissan commented, "We are extremely pleased to be able to support Adnams through this process and experience first-hand Nissan's range of award winning electric vehicles.
"Nissan have been at the forefront of electric technology for some years now and I am pleased that Adnams have chosen us to help them continue on their environmental journey."
If you want to experience All-Electric driving and see the benefits for yourself, call 01986 244076 and speak to one of Electric Vehicle Specialists today.
Latest News