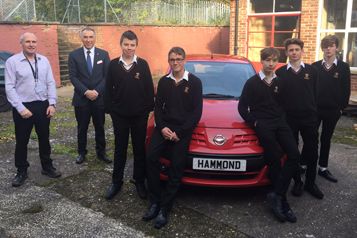 Hammond Nissan Donates Car To The Next Generation Of Technicians.
Recently, students at King Edward VI School received a Nissan Pixo from Simon Chatfield (Service Manager) and Piers Capleton (Dealer Principal) from Hammond Nissan Bury St Edmunds.
Simon and Piers were met by the students who then guided the transporter into position. After the Pixo was unloaded, they were shown some of the projects that had previously been worked on.
The students, aged 14 to 16, are currently studying IMI Level 1 Diploma in Motor Vehicle Maintenance and Repair. This teaches basic mechanical skills and helps to prepare them for future apprenticeships.
"They couldn't wait to get the car into the workshop and begin working on it" said their teacher, John Webber. "The fact that the car is more modern than anything we've had in the past will really help with their learning and understanding of how engines work."
Simon added, "working with local schools helps us to engage with students in and around the area; this helps create early relationships with the possibility of future employment."

Latest News