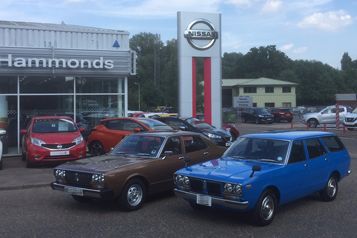 Hammond Nissan Bury St Edmunds Helps Keep Classic Datsuns On The Road
A car enthusiast who owns two immaculate rare Datsuns has called on a Bury St Edmunds Nissan dealership to help keep them on the road.
Local resident Gary Miller, owns a brown Datsun 180B saloon from 1980 — which is the only example in the UK to retain its showroom condition and specification — and a pristine 1978 Datsun 180B estate in bright blue, which is thought to be one of only four in the UK.
While he does all his own maintenance work on his cars, Mr Miller sometimes needs to buy replacement parts and for that, he turns to Hammond Nissan, on Lamdin Road.
Many Nissan components were so well designed and engineered in the 1980s that they are still used in today's models, and because of that, Mr Miller can keep his cars — which he displays at car shows up and down the country — running like a dream.
His latest orders have been points and condensers for both cars, and a set of steering idle arm bushes for the blue Datsun.
Mr Miller said: "The great thing about Nissan is they have a lot of parts —not all, like body panels, but a lot — which haven't changed in years, and so it means that a part on a new Nissan is still useable on an old Datsun like mine. When it comes to getting my parts I just come straight to Hammond as I know they'll be able to get them for me quickly and easily."
Piers Capleton, Dealer Principal at Hammond Nissan, said: "We're delighted to be able to source the parts Gary needs for his very special cars — it's a privilege to play a small part in keeping these incredible heritage vehicles on the road. And it goes to show that with the right parts and regular maintenance, you can enjoy your car for a lifetime!"
To find out more about the Nissan range at Hammond Nissan, or parts and servicing, visit the dealership on Lamdin Road, Bury St Edmunds, or call the team on 01284 544212
Latest News