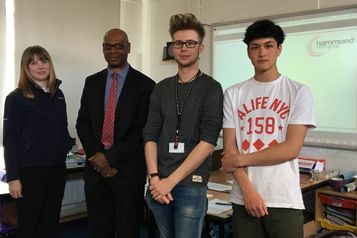 Hammond Motor Group Enlightens Bungay Sixth Form
On Wednesday April 19th staff from Hammond Motor Group attended Bungay Sixth Form.
Victor Maycock, (HR Manager) and Hannah Gooda, (Marketing Assistant and former student) joined a class of Year 12 Business Studies students. The visit enabled students to look at the theories they had studied from a business perspective. They discussed how changes in legislation and the market have an impact on the decisions and strategies the business makes.
Hannah said, "…as a former pupil, it's great to return to the school and provide the students with a link between what they are studying now and a future career."
The class explored the business from both human resources and marketing perspectives. Hannah discussed how changes in technology and demographics have changed the advertising methods used by the company. Victor went on to explain how Hammonds empower their staff and how employment legislation protects them.
The students described the lesson as, 'interesting and enlightening'. Lisha Ewing, (Head of Business) went on to say, "…we highly enjoyed the presentation and were able to take away a lot of useful information".
The Suffolk based motor group continues to work with the community in several different capacities. Victor concluded, "Working with local schools gives the company a fantastic opportunity to engage with and inspire young adults. It's great to see their enthusiasm…we like to think these visits help them prepare for life after education. For many years now we have employed former students from in and around the area. Hammond Motor Group looks forward to working with the school in the near future".
Latest News