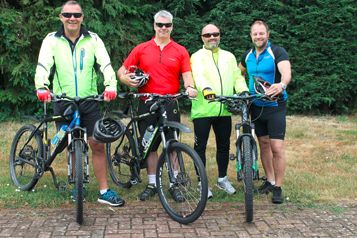 Hammond Group Marketing Manager takes part in challenge for Action Medical Research.
Our Hammond Group Marketing Manager, Duncan Ayres, will be embarking on a charity challenge in the Lake District next month to raise money for Action Medical Research.
On August 29, he will be joined by David Read, Norrie Dixon and Paul Green, to complete a 58-mile cycle ride, ascent and decent of Helvellyn, Britain's second largest mountain, followed by a two-mile canoe across Lake Thirlmere. They must complete the challenge within 10 hours.
Speaking of why the group chose to fundraise in this way, Duncan explained, "It pushes you to your limit. It's something that we wouldn't normally do…we're not going to try to break any records. We have all got to cross the line as a team."
Action Medical Research aims to save and change children's lives through medical research. They have been funding medical breakthroughs since 1952. Some significant examples include the first Polio vaccines in the UK and the Rubella vaccine.
Latest News