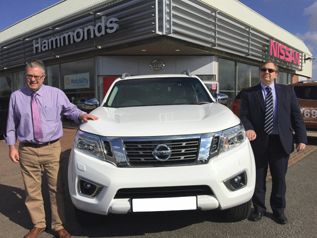 Hammond Group acquires second Nissan Franchise
Hammond Motor Group has acquired it's second Nissan franchise.
The family-run Hammond Group – with it's award-winning Nissan showroom in Halesworth – has now bought the Nissan dealership in Bury St Edmunds from Marshall Motor Group.
The dealership includes 35 staff based at Lamdin Road. Piers Capleton, Dealer Principal at Hammond Nissan for the past 16 years, will oversee the new Bury St Edmunds dealership in addition to his current role in Halesworth. Piers has a deep understanding of the Nissan business model and will look to recreate the success that we have enjoyed at Halesworth.
Company directors Derek and Glen Hammond said it was a significant deal for the group, which, during its five decades in business, has been mainly based around Halesworth.
Derek said: "Our company has enjoyed steady growth over the years. We are a truly local company to Halesworth and the surrounding area and enjoy having a loyal customer base. This deal will see us branch out to a wider part of Suffolk for the first time."
Hammond Motor Group knows the Nissan brand very well – it was one of the first in the country to take on a franchise in the mid-1980s when Nissan Motor GB was formed. Hammond Nissan is also consistently one of the top-performing dealers in the country. For the third consecutive quarter it was named the best Nissan franchise in the UK for delivering excellent customer service, outperforming more than 200 Nissan dealers across the country.
Glen added: "We are delighted to be acquiring another Nissan dealership. It is one of the fastest-growing automotive brands in the country with some of the most popular models on the market today. We look forward to continuing the partnership with the launch of our new Bury St Edmunds dealership."
Latest News