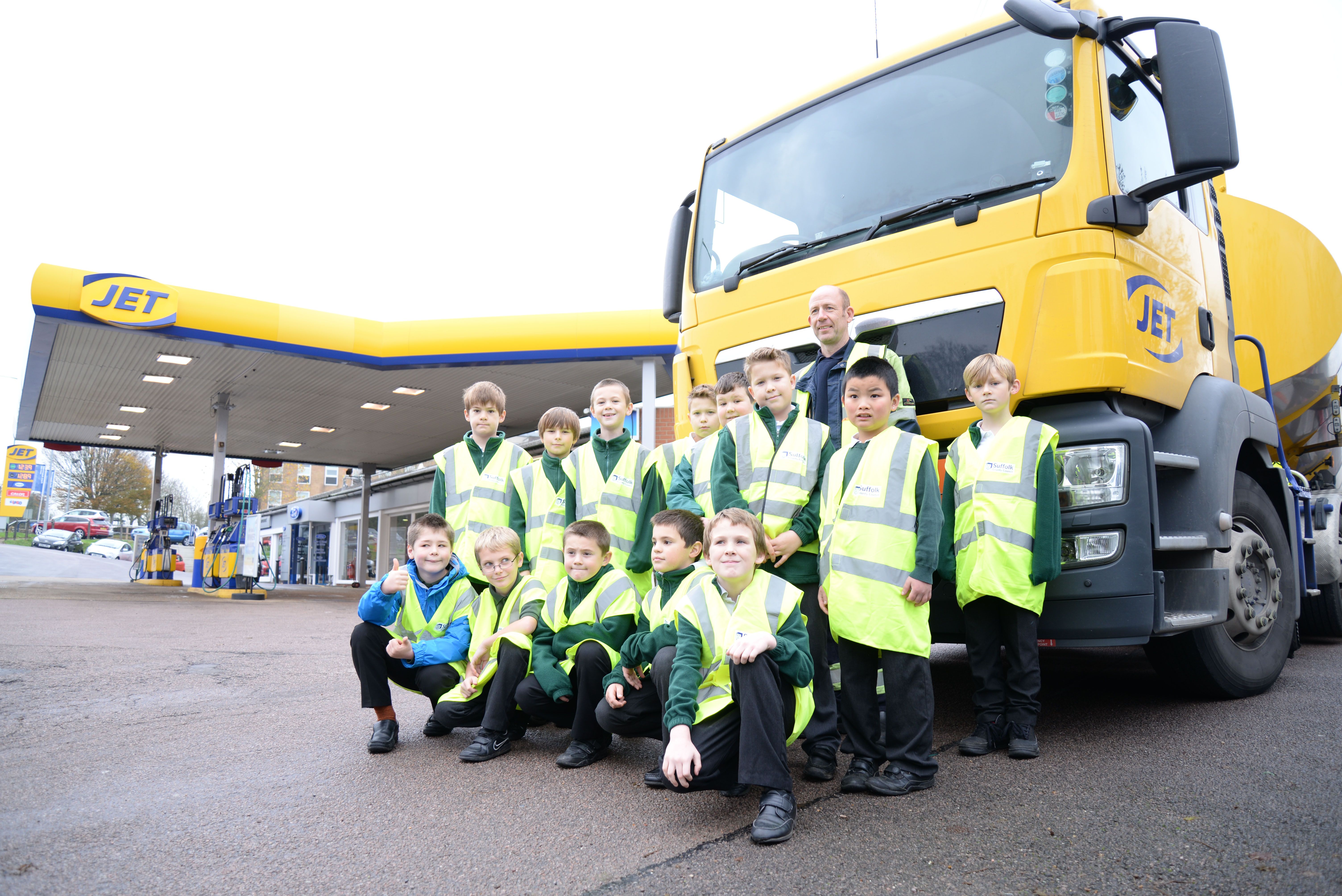 Halesworth pupils take part in national Road Safety initiative thanks to JET
Halesworth pupils take part in national Road Safety initiative thanks to JET
JET's AW & D Hammond forecourt in Halesworth opened its forecourt to pupils from Edgar Sewter Primary School in late November as part of a Road Safety Week, a national road safety initiative run by Brake.
JET, a long-standing supporter of the national charity Brake, rebranded four of its fuel tankers for the duration of Road Safety Week (17 – 23rd November) to help raise road safety awareness. The tanker – which was designed to look transparent and featured Dudley the Duck, JET's road safety mascot – made a visit to Hammonds as part of its routine fuel deliveries.
The delivery driver from Suckling Transport, Darren Dedman, performed an official delivery audit before answering a whole host of questions from the Edgar Sewter pupils. Suckling's Transport Safety Managers and Louise Hammond, manager of Hammonds, then held a tough Q&A session with Year 5 pupils at the school.
Louise comments: "It was fantastic to engage the schoolchildren in important safety messages in a way that was interactive and fun for them. Both on the forecourt and when we went into the school for the Q&A session, the children posed some excellent questions considering most of them are just nine years old! From questions on loading and delivery, through to the importance of design in driving efficiency and health and safety, it was clear that they had thought a lot about safety when delivering fuel."
Pupils from Edgar Sewter and five other local primary schools also received JET/Brake Road Safety Week goodie bags to help them keep road safety front of mind.
Latest News