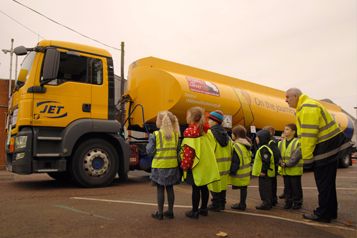 Halesworth Pupils Get A 'Hands On' Road Safety Lesson Thanks To JET
Last week (21st – 25th November) was Road Safety Week, a national initiative run by the road safety charity, Brake. To mark the event, JET's AW&D Hammond forecourt in Halesworth welcomed 81 pupils aged five to seven from Edgar Sewter Primary School onto the forecourt for a session of interactive safety related games and activities.
JET is a long-standing supporter of Brake and with Edgar Sewter school being located directly opposite the forecourt, this year's event focused on highlighting the risks to pedestrians when a tanker is making a delivery. A 44 tonne fuel tanker operated by Suckling Transport, one of JET's transport contractors, was on the forecourt. Pupils were able to climb on board to find out what the driver is able to see from high up in the cab. Pupils also lined up along the side of the tanker to see where the driver's blind spot is, and shouted as loud as they could to see whether the driver could hear them with his engine running.
After the visit to the forecourt, staff from Hammonds JET and Suckling Transport went to the school to take the stage in the hall engaging in a fun Q&A session to tie in with recent math learnings and the tanker visit. The children asked some great questions such as how many cars can one tanker fill, how does the petrol get in and out of the tanker, and how many 1 litre bottles does it take to fill the tanker.
Louise, Forecourt Manager at Hammonds, comments: "We were delighted to welcome the three classes from Edgar Sewter School onto the forecourt. It was lovely that the school wished to participate after feedback from just one class visiting the forecourt for a different safety event in 2014. Safety is JET's and Hammonds' number one priority, so events like this are a great way to get the local community involved and to share some really important safety messages. The feedback we've had from the teachers and pupils has been great – the children loved getting hands on, climbing up into the cab, and finding out lots of information about the tanker."
Dave Nichols, community engagement manager for Brake, said: "We're delighted JET and AW&D Hammonds got involved with Road Safety Week and helped strengthen Brake's campaign for safer roads. We've designed this year's theme to be action-orientated with individuals, businesses, schools and community organisations getting involved, so the tanker safety session is a great example of engaging with a young audience!"
Pupils from Edgar Sewter Primary School also received Hammonds, JET and Brake Road Safety Week goodie bags to help them keep road safety front of mind.
Latest News