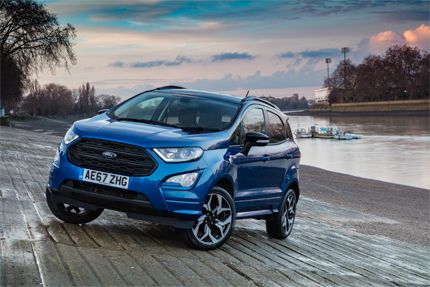 Good Housekeeping Readers Recommend Cars For The First Time Ever And Hammond Ford Has Both…
For the very first time an automotive brand has achieved Reader Recommended status from Good Housekeeping. It is a double success with not one, but two models acknowledged - the Ford EcoSport and Ford Kuga.
The Good Housekeeping Reader Recommended logo combines the expertise of Good Housekeeping's acclaimed testing institute the GHI, alongside the valuable personal insights of its magazine readers.
Jim Chaudry, Automotive Director at Good Housekeeping's publisher Hearst UK, said: "The automotive industry is one of the most important sectors in the UK, with over 2 million new vehicles sold last year, meaning consumers have a tough choice when buying. It's great to see a brand like Ford engaging in our rigorous Good Housekeeping testing programme to ensure they're providing the best quality for the ever-discerning consumer".
The results speak from themselves, 98% of readers rated the Kuga as very good/excellent, with 96% saying they would recommend it to friends and family. 96% of readers found the EcoSport as very good/excellent, and 91% would recommend it to friends and family.
"We are incredibly proud to be the first automotive manufacturer to be Reader Recommended", said Mandy Dean, Marketing Director, Ford of Britain. "It's great to have EcoSport and Kuga, two very popular vehicles in our range, receive further validation from such an established and respected consumer voice, representing everyday users."
Throughout 2018, UK sales of Ford's sports utility vehicle (SUV) range exceeded 60,000. Since 2017, over 37,000 EcoSport's have been sold in the UK, whilst 80,000 Ford Kuga's have been sold in the same period.
Paul Marjoram, Ford Dealer Principal at AW&D Hammond, said: "Both these cars have been exceptionally popular with our customers across Suffolk. It's fantastic to see that our best-selling SUV's have now been acknowledged nationally by Good Housekeeping readers."
Find out what the readers are raving about and arrange a test drive today, call 01986 244072.
To see the latest offers from your local Ford dealer, click here.

Latest News