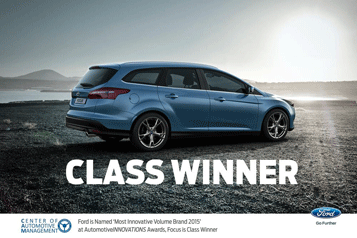 Ford is named 'Most Innovative Volume Brand 2015' at AutomotiveINNOVATIONS Awards, Focus is Class Winner
Ford wins "Most Innovative Volume Brand 2015" at the AutomotiveINNOVATIONS awards.
The Centre of Automotive Management announces the winners after considering 1,220 innovations from 53 auto brands across 18 global automotive companies
Ford wins for safety and semi-autonomous driver assistance systems including Active Park Assist, and Active City Stop
FRANKFURT, Germany, May 1, 2015 – Ford Motor Company has been named the "Most Innovative Volume Brand 2015" for its safety and semi-autonomous driver technologies at the tenth annual AutomotiveINNOVATIONS awards.
The Centre of Automotive Management based in Germany named Ford the category winner after considering innovations from 18 global automotive groups representing 53 brands. The new Ford Focus also won in its class, and the all-new Ford Mondeo was in the top three in its segment.
Ford won the awards for safety and driver assistance systems including Active Park Assist that helps drivers to park alongside other cars, and in parallel parking spaces; and automatic braking technology Active City Stop that operates at speeds of up to 30mph.
"Innovation has always been the lifeblood of Ford and it's more vital with the automotive industry entering a period of rapid technological advancement," said Joe Bakaj, vice president, Product Development, Ford of Europe. "The technologies we are introducing today are enabling a safer, more efficient and more connected journey."
The Centre of Automotive Management is an independent institute for automotive and mobility research and strategic consulting at the University of Applied Sciences, Bergisch Gladbach, in Germany. The AutomotiveINNOVATIONS awards recognises automotive engineering innovation. The judging panel, led by centre director Prof. Dr. Stefan Bratzel, in collaboration with PricewaterhouseCoopers AG, reported that driver assistance systems accounted for nearly 300 of the innovations submitted.
"AutomotiveINNOVATIONS identified the future trends in the automotive industry on the basis of more than 1,200 technical innovations," Bratzel said. "The award for Ford as 'Most Innovative Volume Manufacturer' proves the innovative power of the brand. With Focus and Mondeo, many of the innovations have already found their way into production."
Jurors also recognised Ford for the award-winning 1.0-litre EcoBoost engine that last year became the first engine to be named International Engine of the Year three years in a row, and the company's Electronic Stability Programme technology.
In a speech in Frankfurt on Wednesday, Bakaj outlined Ford Smart Mobility, the company's plan to help protect the freedom of mobility and change the way the world moves as it becomes increasing more crowded and urbanized. In January, the company launched an initial 25 mobility pilot projects to foster innovation in the areas of connectivity, mobility, autonomous vehicles, customer experience and big data.
Launched last year, the new Focus is sold in more than 140 markets worldwide and also offers voice-activated SYNC 2 technology that enables drivers simply to say "I'm hungry" to bring up a list of local restaurants, which they can then get directions to. The all-new Mondeo offers technologies including Inflatable Rear Seatbelt that combines airbag and seatbelt attributes, and Ford's new Pre-Collision Assist with Pedestrian Detection that can detect people in the road ahead – or that could cross the vehicle's path – and automatically apply the brakes if the driver does not respond to warnings.
Latest News