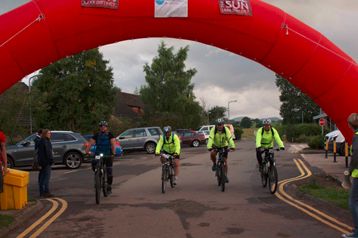 Duncan crosses the line
A 12-hour fundraising feat in the Lake District proved well worth the endurance for 4 Suffolk men by bringing in more than £4,000 for charity.
Duncan Ayres, our Hammond Group Marketing Manager, was joined by David Read, Norrie Dixon and Paul Green; on August 29th for a 58-mile cycle ride, an ascent and decent of Helvellyn, Britain's second largest mountain, and a 2-mile canoe across Lake Thirlmere.
The team set off at 6.11am and completed the challenge within 12 hours. All the funds raised are going to Action Medical Research, a UK based charity which funds research into incurable and life changing diseases affecting children.
Duncan explains, "It was a lot harder than we expected. We did the first stage in the time we wanted, but then spent a lot longer on the mountain than we anticipated. Coming down was treacherous because it was pouring with rain. The weather definitely wasn't on our side and we still had the canoeing and the second half of our bike ride to go! We were relieved to finish"
The team already have plans in the pipeline for another feat next year.
The group have now raised more than £4,000.
Latest News