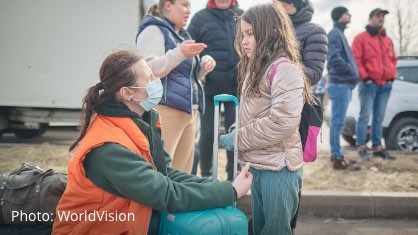 Dress Down For DEC Ukrainian Appeal Raises £3400

As a Company, the Hammond Motor Group has always supported many local and National causes over their 60 years in business.
Ongoing support is currently given to The Guide Dogs for the Blind as the chosen Company charity. Every now and again spot fundraisers are held via cake sales or dress down days for example, the last being for the Royal British Legion.
Moved by the terrible plight in Ukraine, Louise Hammond suggested that a "dress down Friday" where staff were encouraged to wear casual attire, would be an excellent way to further donate to DEC, providing humanitarian aid to the Ukraine. The date was set as Friday 11th March 2022. Managing Director, Derek Hammond was fully supportive of the idea and provided encouragement by stating that any monies raised would be matched by the Company.
This created a feelgood factor across the group, produced smiles and opened conversations amongst colleagues and customers alike.
Louise said; "This idea wouldn't have achieved such fantastic success without the support of others, the generosity of my colleagues, the forecourt customers or the effort from the other site volunteers. When I came up with the idea, to be honest, I never expected to collect so much, after chatting with Derek we had £1000 target in mind. Delighted that we were so far off the mark"
Thanks to the wonderful support of our colleagues and forecourt customers adding a £1.00 to their transactions, we managed to raise a heart-warming and truly amazing amount of £1685. Every Hammond Motor Group site added to the pot, from Dereham to Bury St Edmunds to Rendlesham and of course Halesworth. As promised, this was matched, and we as a business made a very proud donation. With a small flurry of activity after the official day, the final donation sent to DEC was £3,400
Dear Louise,

Thank you so much for your donation to the DEC Ukraine Humanitarian Appeal.

Donation reference number:

01FYMFRCZRFQ4XPMKG7AVQW89R

Donation amount:

£3370.00DEC - Disasters Emergency Committee
Dear Louise,

Thank you so much for your donation to the DEC Ukraine Humanitarian Appeal.

Donation reference number:

01FZ3V6YTWVAK68Q7MFFQ1B9T8

Donation amount:

£30.00
Latest News