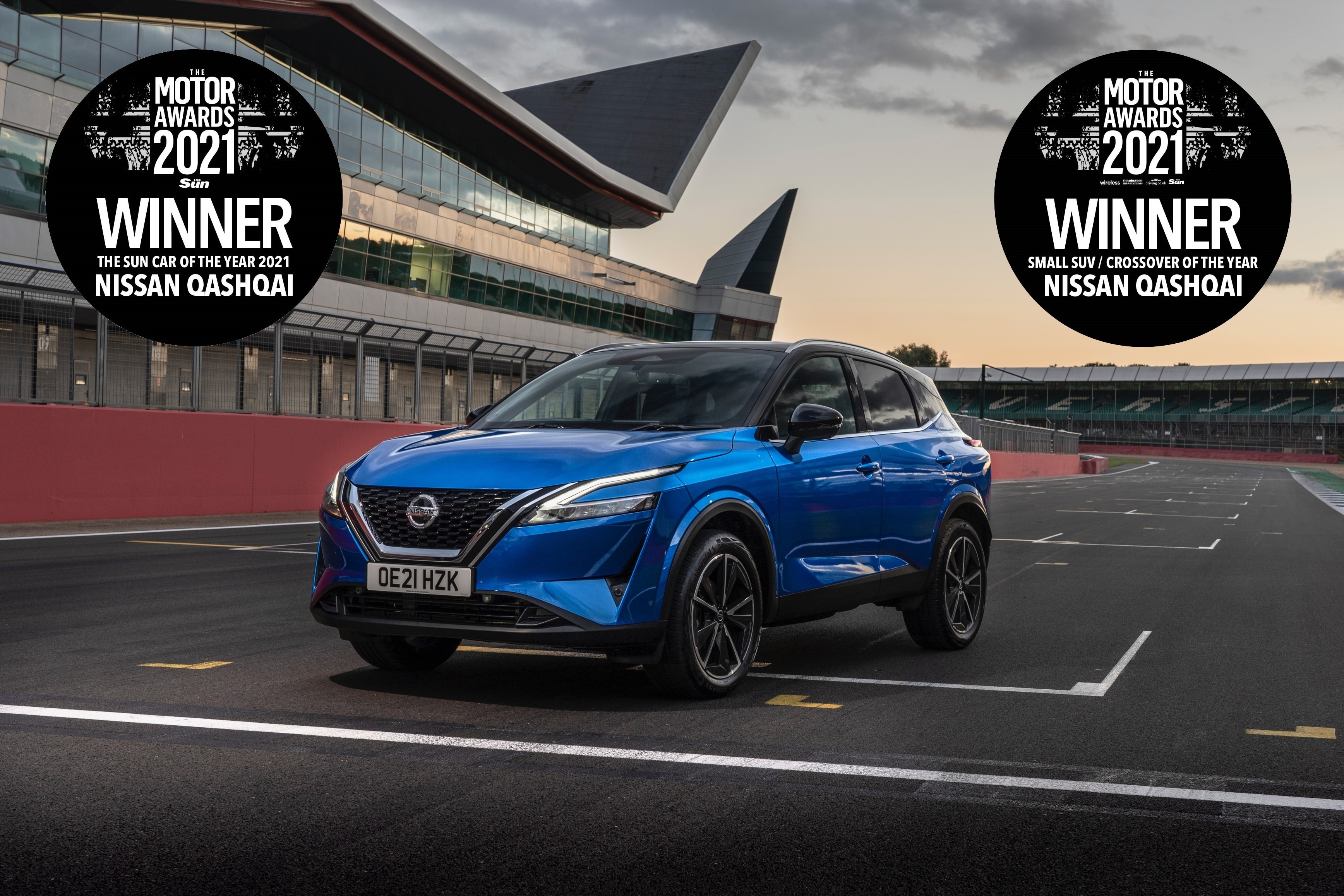 Best of British! An electrified double victory for the All-New Nissan Qashqai at The Motor Awards 2021
The All-New Nissan Qashqai has picked up double honours at The Motor Awards 2021 which is organised by News UK. The Qashqai received the prestigious overall award of 'The Sun Car of the Year 2021' as well as being named as the winner for 'Small SUV/Crossover of the Year'.
The Editor of The Sun Motors, Rob Gill said; 'Put simply, there is no better family car. It just fits your life. The All-New Qashqai is the perfect recipe: Practical, sensibly priced, stylish, hybrid and the posh new cabin is packed with all the technology and luxuries we love.
"The cherry on top is that the Qashqai is designed, engineered and built in Britain. The original crossover and still the best. Well done, Nissan."
Now that it's in its fourth year, the Motor Awards 2021 brings together the collective expertise of a variety of press journalists to judge the latest automotive arrivals across a selection of categories.
The Managing Director of Nissan Motors (GB), Andrew Humberstone, commented, "We are incredibly proud to see the All-New Nissan Qashqai officially recognised in the 2021 Motors Awards, both as the best crossover and The Sun's overall Car of the Year. This is the substantial vote of confidence from the some of UK's most popular newspapers and their expert motoring correspondents.
"The Qashqai is a tribute to the Nissan teams who designed, engineered, and are currently making this car right here in the UK. I'm also delighted that just a few months since launch, the All-New Qashqai closed the important September month by reclaiming its title as the UK's best-selling SUV."
With new class leading technologies, a new electrified powertrain and advanced connectivity, the latest Qashqai has redefined the popular crossover segment once more.
Designed in London, engineered in Cranfield and built in Sunderland, the latest Nissan Qashqai retains the signature qualities of the previous versions, namely, elegant design, intelligent packaging, and efficient powertrains, combined with an engaging driving experience.
Latest News