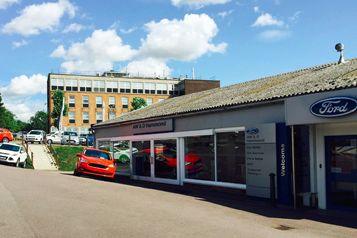 AW & D Hammond celebrates 40 years as a Ford Dealer with a Birthday bash and all are welcome
The Hammond Motor Group was founded in 1962 by Roy and Daisy Hammond; the pair took a tremendous leap of faith by launching their own motor repair company when they started trading as AW & D Hammond in the small village of Wenhaston, near Halesworth. Through hard work, dedication and by delivering what customers wanted, their initial £1500 investment evolved into the company that is now the Hammond Group.
Fifty three years ago, Roy Hammond worked in Halesworth as a motor mechanic, but decided to turn his passion for motor vehicles and strong desire to provide a valued service for his local community into a business. Starting in a humble wooden shed as his workshop, which could only hold one and a half cars, Roy quickly built a reputation for himself and was way ahead of his time, offering courtesy cars, service washes and a 24 hour breakdown and recovery service, well before any of these ideas had ever been thought of!
As the business grew, Roy expanded by purchasing an adjoining field and then in 1974 bought the Ford business in Halesworth.
The dealership has gone from strength to strength and recently won the prestigious Ford Motoring Company's Chairman's Award for customer service.
To celebrate their 40 years AW & D Hammond Ford will be having a party aided by Beach Radio.
The party starts at 10am continuing until 5pm on Saturday September 5th with Beach Radio (including the Beach Bunny and children's pirate chest) joining between 11am and 2pm. There will also be a grand cutting of the Birthday cake at 1pm, food and drink available all day, Technology Challenge and the chance to win a Ford Fiesta.
All are welcome
AW & D Hammond Ford is located on Norwich Rd, Halesworth, Suffolk IP198BU
Latest News