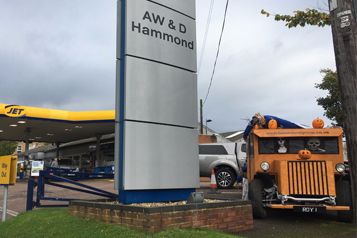 Another successful Halesworth Scarecrow Festival.
This October, Hammond Motor Group took part in the 8th Halesworth Scarecrow Festival; an annual community project which raises money for the town's Christmas light display.
The event which also celebrates Halloween, starts with local businesses creating scarecrows which are displayed outside their premises during the October half term week. A trail is created and families come into the town to take part in a scarecrow hunt. The winning creation is then voted for by the children.
Late September, Hammond Motor Group assembled a team of 40 staff members to take on this year's challenge.
Inspired by the iconic Model T Ford, a pick-up would be built and a further 6 scarecrows would also be created; each representing a different department of the business. The added challenge was that all parts and materials would have to be donated or sourced from within the business.
The first thing to do was to find a donor vehicle which would form the basic structure. Whip Street Motors, from Ipswich, kindly donated an old Frontera which was destined to be scrapped. This vehicle had a chassis that would form the basis of the project.
Further materials were gathered to make the straw guys and the plans rapidly came together.
The team started by stripping down the car after work in the evenings and soon it was a shell. The shell was then cut in half so that it would form the basic pickup. The next stage was to use plywood to build the body, create the cab and buck structure. Doors were made, a bonnet appeared and rapidly this idea turned into a reality.
On Friday 20th October, the project was ready for the public unveil at A W & D Hammond. Louise Hammond, Forecourt Manager, said, "Location-wise we're on the main road going into the town so in a prime spot to grab people's attention with our scarecrow truck. We try to get involved in our local community at every opportunity as it's great to give something back to our loyal customers and businesses. This was the first year we've taken part in the Scarecrow Festival but I'm sure it won't be the last!"
Organiser, Karen Prime, estimated 75 scarecrows were displayed throughout the town and Thoroughfare.
Latest News